Ad blocker interference detected!
Wikia is a free-to-use site that makes money from advertising. We have a modified experience for viewers using ad blockers

Wikia is not accessible if you've made further modifications. Remove the custom ad blocker rule(s) and the page will load as expected.
X-Wing Fighter
Debut Series
Star Wars Carships
Produced
2016-present
Designer
Dmitriy Shakhmatov
Description
The Incom T-65 X-wing Fighter was the primary all-purpose starfighter of the Rebel Alliance and its successor governments. Known for its versatility and exceptional combat performance, it was a favorite with Rebel and New Republic pilots. Possessing deflector shields, a hyperdrive, an R2 astromech for repairs and navigation, and a complement of proton torpedoes, the X-wing allowed the Rebellion to launch raids in Imperial space with improved odds of a successful mission.
For the launch of Star Wars Carships, Hot Wheels decided to built a 1:1 scale X-wing Fighter carship. This car was for display at the San Diego Comic-Con and Hot Wheels even allowed a select few to sit inside.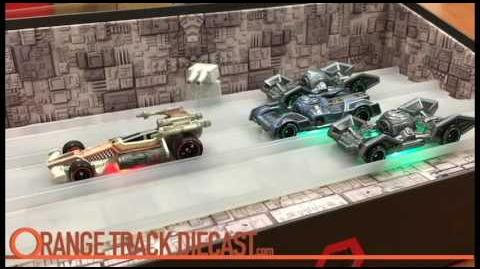 Accompanying the launch of the Carships was a San Diego Comic-Con exclusive 4-Pack. This SDCC set was a Hot Wheels style diorama that recreated the famous "Trench Run" scene from Star Wars: Episode IV - A New Hope (1977). This 4-car set featured the X-wing Fighter outrunning three TIE Fighters with the one in the middle being a special Darth Vader TIE Fighter casting. This set is full of lights and sounds. It retailed for US$50 at the show, with a select few being sold on HotWheelsCollectors.com after the show for the same price.
Versions
The X-Wing Fighter has come out in the following 1/64 scale versions:
| Col # | Year | Series | Color | Tampo | Base Color / Type | Window Color | Interior Color | Wheel Type | Toy # | Country | Notes / Variations | Photo |
| --- | --- | --- | --- | --- | --- | --- | --- | --- | --- | --- | --- | --- |
| - | 2016 | San Diego Comic-Con: Trench Run 4-Pack | Pearl Beige w/ Brown wash | Red & Yellow stripes, & Rebel Alliance logo on top & sides, checkerboard on sides, Black windows on canopy | Grey / Metal | Silver w/ Brown wash | Dark Grey | Chrome Red & Chrome Black "Star Wars" RR5SP | DMJ03 | China | 2016 San Diego Comic-Con exclusive | |
| - | 2016 | Star Wars Carships | Pearl Beige | Red & Yellow stripes, & Rebel Alliance logo on top & sides, checkerboard on sides, Black windows on canopy | Grey / Metal | Silver | Dark Grey | Chrome Red & Black OH5SP | DPV26 | China | | |
Gallery
External Links