Ad blocker interference detected!
Wikia is a free-to-use site that makes money from advertising. We have a modified experience for viewers using ad blockers

Wikia is not accessible if you've made further modifications. Remove the custom ad blocker rule(s) and the page will load as expected.
Description
The VW Brasilia is a reproduction of a compact Brazillian car with the same name (named after Brazil's capital city). The real model was produced from 1973 to 1982 by Volkswagen Brazil, and was one of the first Volkswagens to be designed outside of Germany.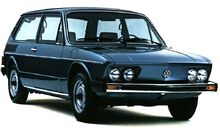 The Brasilia looked like a smaller version of the Volkswagen 412 Variant, but was in fact based on the Volkswagen Beetle. It was developed by Volkswagen do Brasil ('Volkswagen of Brazil'), which had at the time a unique and somewhat exotic line of cars, which spawned such rarities as the SP2. The Brasilia was equipped with the Volkswagen air-cooled engine from the Beetle.
The Hot Wheels version has a non-stock front bumper, removed back bumper, racing seat and a roll cage. The miniature is a reproduction of the first generation Brasilia (1972-1977).
Versions
The VW Brasilia has come out in the following 1/64ish scale versions:
Col #
Year
Series
Color
Tampo
Base Color / Type
Window Color
Interior Color
Wheel Type
Toy #
Country
Notes
Photo
008
2011
New Models 8/50
Blue
Front lights chrome stripe, back lights
Gray / Plastic
Clear
White
Chrome PR5
T9678
Malaysia
Base Code(s): D09
008
2011
New Models 8/50
Green
Front lights chrome stripe, back lights
Dark Gray / Plastic
Smoke Tint
Tan
Chrome PR5
V0034
Malaysia
Base Code(s): D24; D30, D36
155
2012

Heat Fleet 5/10

Metallic Burgundy
Red, Yellow and White flames
Dark Gray / Plastic
Smoke Tint
Black
Gold Chrome MC5
Malaysia
Base Code: D50
155
2012
Heat Fleet

5/10

Lime Green
Green, Orange and Black flames
Dark Gray / Plastic
Clear
Black
Yellow-rim, Black MC5
V5610
Malaysia

Base Code:E14

155
2012
Heat Fleet

5/10

Lime Green
Green, Orange and Black flames
Dark Gray / Plastic
Clear
Black
Yellow-rim, Black MC5
V5610
Malaysia
Walmart Exclusive-Windshield Banner
N/A
2013
Jungle Rally
Dark Olive Green
Yellow, Black, White, & Red deco, stripes & '78' on sides.
Black / Plastic
Clear
Grey
Orange PR5
X9861
Thailand
Called VW brasilia Jungle Rally
05 / 06
2015
2015 Holiday Hot Rods
Metalfake Gold
Red, Green & Black stripes on sides, Red & Green stripes on hood, '15' on sides & hood, Snowflakes on sides
Black / Plastic
Clear
Olive Green
Chrome Red PR5
CFV15
Malaysia
Base code(s):

Walmart Exclusive
Gallery