Ad blocker interference detected!
Wikia is a free-to-use site that makes money from advertising. We have a modified experience for viewers using ad blockers

Wikia is not accessible if you've made further modifications. Remove the custom ad blocker rule(s) and the page will load as expected.
Description
The '74 Volkswagen was given a new lease, it is a major Re-casting of the Custom Volkswagen US body.Though you can see in the 1974 catalog it is a Hong Kong body.
The striped tampo variation was very short lived, it seems that the lining up of the tampo presented a challenge. Thus it was changed to the bug on the roof. I have never seen a capped redline wheel version. Issued in bright enamel orange, it was never seen again til the Wisconsin Toy Company Promotion in 1980.
Versions
The Volkswagen has come out in the following 1/64 scale versions, :
| Year | Series | Color | Tampo | Base Color | Window Color | Interior Color | Wheel Type | cast# | Country | Notes / Variations | Photo |
| --- | --- | --- | --- | --- | --- | --- | --- | --- | --- | --- | --- |
| 1974 | Flying Colors | Orange | Black,White and Yellow Stripes on Top | Metal | Blue Tint | Black | Red Lines | 7620 | Hong Kong | | |
| 1974 | Flying Colors | Orange | Yellow, Black, and Green bug on roof | Metal | Blue Tint | Black | Red Lines | 7620 | Hong Kong | | |
| 1975 | Herfy's Promo | Orange | Yellow, Black, and Green bug on roof "herfy's" on side | Metal | Blue Tint | Black | Red Lines | 7620 | Hong Kong | | |
| 1980 | Wisconsin Toy Co. | Orange | Yellow, Black, and Green bug on roof | Black Plastic | Blue Tint | Black | Red Lines | 7620 | Hong Kong | baggie with header card | |
Similar Casting and Names
1968 Spectraflame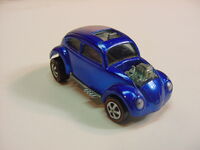 1989 Regular Line-up
Gallery