This is one of Hot Wheel's newest play sets. This is in the 2014 HW City series.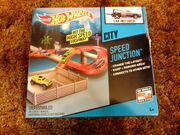 Speed Junction comes most likely with Repo Duty from 2013. This set comes with 14 pieces and a car. It includes: a tree, light, speed signal, intersection, turn, advertisement, parking lot, over-head turn with bridge. You can expand the set with some Track Builder roads and sets. I'd rate this set 3 out of 5 stars.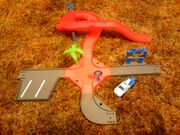 Ad blocker interference detected!
Wikia is a free-to-use site that makes money from advertising. We have a modified experience for viewers using ad blockers

Wikia is not accessible if you've made further modifications. Remove the custom ad blocker rule(s) and the page will load as expected.