Notes
Introduced in 1969, Ira's concept car was a Original Hot Wheel. It was designed from the ground up in house at Mattel. The Twin Mill has become one of the most recognizable and popular Hot Wheels casting for generations, enough that a full-size replica of the car was created and displayed at autoshows.
Early versions saw what is called "Cut Fenders". These adhere to the drawings Ira made. This is proclaimed to be a prototype. Many different colors do exist, Antifreeze, Orange, Red, Apple Green, Creamy Pink.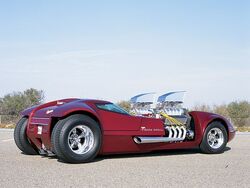 This casting was made in the USA only.
It has led to three other follow-up castings, the Twin Mill II (1993) and Twin Mill III, as well as a Toon Car Casting.
It is playable in Hot Wheels: Turbo Racing.
Versions
The Twin Mill has been released in the following 1/64 scale versions:
| Year | Series | Color | Sticker | Base Color / Type | Window Color | Interior Color | Wheel Type | cast # | Country | Notes | Photo |
| --- | --- | --- | --- | --- | --- | --- | --- | --- | --- | --- | --- |
| 1969 | Hot Wheels | Spectraflame Green | | Spectraflame Green | Clear | | RL | 6258 | USA | | |
| 1969 | Hot Wheels | Spectraflame Blue | | Spectraflame Blue | Clear | | RL | 6258 | USA | | |
| 1969 | Hot Wheels | Spectraflame Aqua | | Spectraflame Aqua | Clear | | RL | 6258 | USA | | |
| 1969 | Hot Wheels | Spectraflame Red | | Spectraflame Red | Clear | | RL | 6258 | USA | | |
| 1969 | Hot Wheels | Spectraflame Lime Green | | Spectraflame Lime Green | Clear | | RL | 6258 | USA | | |
| 1969 | Hot Wheels | Spectraflame Gold | | Spectraflame Gold | Clear | | RL | 6258 | USA | | |
| 1969 | Hot Wheels | Spectraflame Orange | | Spectraflame Orange | Clear | | RL | 6258 | USA | | |
| 1969 | Hot Wheels | Spectraflame Rose | | Spectraflame Rose | Clear | | RL | 6258 | USA | | |
| 1969 | Hot Wheels | Spectraflame Olive | | Spectraflame Olive | Clear | | RL | 6258 | USA | | |
| 1969 | Hot Wheels | Spectraflame Purple | | Spectraflame Purple | Clear | | RL | 6258 | USA | | |
| 1969 | Hot Wheels | Spectraflame Antifreeze | | Spectraflame Antifreeze | Clear | | RL | 6258 | USA | | |
| 1969 | Hot Wheels | Spectraflame Magenta | | Spectraflame Magenta | Clear | | RL | 6258 | USA | | |
| 1969 | Hot Wheels | Spectraflame Light Blue | | Spectraflame Light Blue | Clear | | RL | 6258 | USA | | |
| 1969 | Hot Wheels | Spectraflame Apple Green | | Spectraflame Apple Green | Clear | | RL | 6258 | USA | | |
| 1969 | Hot Wheels | Spectraflame Yellow | | Spectraflame Yellow | Clear | | RL | 6258 | USA | | |
| 1969 | Hot Wheels | Spectraflame Creamy Pink | | Spectraflame Creamy Pink | Clear | | RL | 6258 | USA | | |
| 1969 | Hot Wheels | Spectraflame Brown | | Spectraflame Brown | Clear | | RL | 6258 | USA | | |
Similar Castings and Names
Re-Cast Versions
Twin Mill has been released in the following versions:
| Col # | Year | Series | Color | Tampo | Base Color / Type | Window Color | Interior Color | Wheel Type | Car # | Country | Notes | Photo |
| --- | --- | --- | --- | --- | --- | --- | --- | --- | --- | --- | --- | --- |
| | 1993 | 25th Anniversary Series | Brownish - Olive | no tampo | Brownish - Olive | Clear | White | RL | 5709 | China | | |
| | 1993 | 25th Anniversary Series | Red | no tampo | Red | Clear | White | RL | 5709 | China | | |
| | 1993 | 25th Anniversary Series | Light Blue | no tampo | Light Blue | Clear | White | RL | 5709 | China | Available in Toys R Us 10 Pack | |
| | 1994 | FAO Schwarz Gold Series Collection | Metalflake Greyish - Blue | tiny White Hot Wheels Logo | Greyish - Blue | Clear | White | RL Gold | 5709 | China | limited to 3000 | |
| | 1994 | Vintage Series | Blue | tiny White Hot Wheels Logo | Blue | Clear | White | RL | 5709 | China | | |
| N/A | 1996 | Vintage Race Team Set | White / Metalflake Blue | Hot Wheels Race Team deco. Red "1" | Metalflake Blue | Clear | White | BW with Goodyear Tampo | 16139 | China | | |
| N/A | 1996 | Bonus Car | Metalflake Yellow | Tiny Red Hot Wheels Logo on top | Yellow | Clear | Black | BW | | China | Came in Baggie, See South texas die cast | |
| | 1998 | Hot Wheels Legends | Metallic Pale Green | | | Clear | | Unique | 19305 | | | |
| | 2001 | Pro Racing 2001 | Blue / Red / White | 99 Team CITGO | White Metal | Clear | White | RR | | Thailand | | |
| | 2001 | Pro Racing 2001 | Orange | 32 Team TIDE | Unpainted Metal | Blue | White | RR | | Thailand | | |
| | 2001 | Pro Racing 2001 | White / Red / Blue | 10 Team Valvoline | Blue Metal | Blue | White | RR | | Thailand | | |
| | 2001 | Pro Racing 2001 | Black / Yellow | 22 Team Caterpillar | Yellow Metal | Clear | Black | RR | | Thailand | | |
| | 2002 | HotWheelsCollectors.com Series 1 | Spectraflame Red | | | | | RL | | | | |
| 17 / 35 | 2003 | Highway 35 World Race - Roadbeasts | Red | Roadbeasts Graphics, #17 | Black | Yellow Tint | | Chrome-Rim, Gray CM5 | | | | |
| | 2003 | Hall of Fame - Legends | Spectraflame Magenta | White "Twin Mill" on sides | Spectraflame Magenta | Clear | White | RR5SP | B0931 | China | | |
| | 2007 | 40 Years of Hot Wheels Set | Chrome | N/A | Unpainted metal | | Gray | RL | | Thailand | | |
| 4 / 6 | 2008 | 2008 Valentine's Day Cars | Metalflake Black | Gold, Red, and Magenta flames on hood | Red | Red | Red | Gold 5SP | N1273 | Thailand | Target Exclusive | |
| | 2008 | Tornado Twister Track Set | Blue | Yellow, Silver Tribal on roof and hood | Polished metal | Clear | Black | Chrome 3SP | | Thailand | | |
| N / A | 2009 | Connect Cars - Minnesota #32 | Red | White Stripe down middle, Silver fish hook, "MINNESOTA", "32", "TWIN CITIES", "Land of 10,000 Lakes", "L'Etoile du Nord" | Unpainted Metal | Red Tint | White | Chrome 5SP | N4163 | Malaysia | | |
| 212 | 2010 | Race World Volcano #4 | Metalflake Black | Red and Black flames on sides and front | Unpainted / Metal | Red Tint | Gray | Red rim, Black PR5 | R7641 | Malaysia | Base Code B31,29,28 | |
| | 2011 | The Hot Ones | Metalflake Copper | Beige, Red and Silver tampos | Unpainted / Metal | Red Tint | Black | BW | W1559 | Thailand | | |
| | 2012 | Hot Wheels Boulevard | green | | | Black | | RLRR5SP | W4650 | | | |
| | 2013 | Mystery Models | blue | Orange stripes and stars | Unpainted / Metal | Yellow | Chrome | 5SP | | | Base Code: F44 | |
| 221 / 250 | 2014 | HW Workshop - Then and Now | Metalflake Green | Black Stripes | Metalflake Green | Clear | Grey | Chrome rim, Black MC5 | BFF00 | Malaysia | Base Code(s): G04 | |
| 221 / 250 | 2014 | HW Workshop - Then and Now | Spectraflame Green | Black Stripes | Spectraflame Green | Clear | Grey | RR | BFF35 | Malaysia | Base Code(s): G03. 2014 Treasure Hunts Series | |
| 221 / 250 | 2014 | HW Workshop - Then and Now | Metalflake Red | Black stripe and Gold pin stripes on roof and hood. | Metalflake Red / Metal | Clear | Grey | MC5 | BFV54 | Malaysia | "Toys R Us" exclusive color. Base Code: G15 | |
| N/A | 2015 | Origin of Awesome 5-Pack | Spectraflame Green | White Team Hot Wheels Logo & lightning on sides. | Chrome / Plastic | Chrome | Tinted | OH5 | CDT29 | Thailand | Base Code(s): H04 | |
| 01 / 07 | 2016 | Batman v Superman Series | Metalflake Dark Grey | Blue & Black stripes on top, Superman logo on hood, Batman logo on roof, Batman v Superman logo on sides | Metalflake Purple | Tinted (Blue) | Chrome | Black OH5SP | DJL48 | Malaysia | Base code(s): H44 | |
Gallery