With futuristic cabin. This Truckin 'Transporter (L3191) has a trailer with sliding cargo platform, very similar to the model Back Slider. Another feature of this model is the possibility of opening the cabin. Showing the driving position. The unique model is the Enforcer.
As usual in the early models of Truckin' Transporters, the only way to identify them. It is for your reference number. (L3191)
There is another model of similar esthetics, and different coloration. This time with a proper name Combat Hauler (R1071) and different exclusive vehicle. (RD-05)
Truckin' Transporter with Exclusive Vehicle

Truckin' Transporter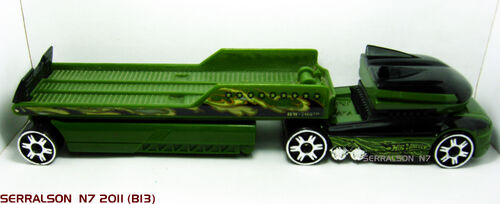 Exclusive Vehicle: Enforcer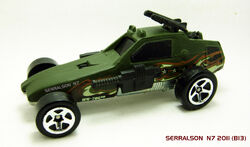 Ad blocker interference detected!
Wikia is a free-to-use site that makes money from advertising. We have a modified experience for viewers using ad blockers

Wikia is not accessible if you've made further modifications. Remove the custom ad blocker rule(s) and the page will load as expected.