Ad blocker interference detected!
Wikia is a free-to-use site that makes money from advertising. We have a modified experience for viewers using ad blockers

Wikia is not accessible if you've made further modifications. Remove the custom ad blocker rule(s) and the page will load as expected.
The Triple Track Twister 5-Pack (X9855) was released in 2013
|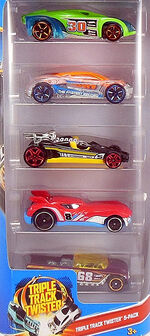 The triple Track Twister 5-Pack are cars that run well on the Triple Track Twister HW track.
Cars
| Casting Name | Body Color | Tampo Color | Base Color / Type | Window Color | Interior Color | Wheel Type | Country | Notes | Photo |
| --- | --- | --- | --- | --- | --- | --- | --- | --- | --- |
| Howlin' Heat | Red | Number 8, Side stripe, HW logo | Blue Plastic | Chrome | Can't be seen | PH5 Chrome Rims | | Base code(s): F29 | |
| El Superfasto | Transparent Blue and green | 30, HW logo and black tampo | metal | Transparent Blue | Black | Bronze OH5 | | Base code(s): F26 | |
| Nitrium | Clear | HW logo, "fastest record", number 0 | metal | Orange | Chrome | Light Blue OH5 | | Base code(s): F28 | |
| Honda Racer | Black | "Honda" number 5 | Yellow Plastic | None | None | Red PH5 | | Base code(s): F28 | |
| Jester | Transparent Purple | Number 68, HW logo | Black Plastic | Yellow | Chrome | OH5 Bronze Rim | | Base code(s): F29 | |
Gallery