Ad blocker interference detected!
Wikia is a free-to-use site that makes money from advertising. We have a modified experience for viewers using ad blockers

Wikia is not accessible if you've made further modifications. Remove the custom ad blocker rule(s) and the page will load as expected.
In 2010 Hot Wheels released 8 vehicles featuring characters, from the Disney/Pixar movie, Toy Story 3. Each character uniquely transformed into the actual vehicle.
In early 2011 a second wave was released, the cars were distributed simply under the Toy Story name. This second wave also included a 9th car, "R.C. To Go" soon after a third wave hit featuring the 10th and 11th cars in the series. The latest 2 are called "Land Speed Lenny" and "Rocky Road"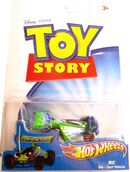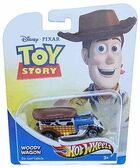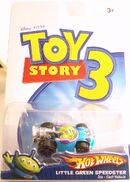 Cars
The Following Characters were in the Toy Story 3 series:
Characters
Body Color
Base Color / Type
Wheel Type
Toy #
Country
Character
Photo
Blastin' Buzz
White / Green
Black / Plastic
OH5
P4829
Thailand
Buzz Lightyear
Hamm on Wheels
Metallic Pink/Peach
Black / Metal
Gold Chrome 5SP
P4830
Thailand
Hamm the Piggy Bank
Little Green Speedster
Metallic Blue
Metallic Blue / Metal
Purple Chrome OH5
P4834
Thailand
Little Green Man (L.G.M.)
Lotso Speed
Metallic Magenta
Unpainted / Metal
5SP
R2518
Thailand
Lotso Huggin' Bear
Rex Rider
2-Tone green
Pale Green / Plastic
OH5
P4832
Thailand
Rex the Tyrannosaurus
Speedin' Stretch
Metallic Purple
Unpainted / Metal
Purple Chrome OH5
R2519
Thailand
Stretch the Octopus
Turbo Chunk
Metallic Light Orange
Black / Plastic
OH5
R2520
Thailand
Chunk
Wheelin' Woodie
Pearl White / Yellow
Black / Metal
Gold Chrome 5SP
P4831
Thailand
Woody the Cowboy
R.C. To Go
Green
Blue / Plastic
Red Chrome 5SP
T8550
Thailand
R.C.
Land Speed Lenny
Metallic Blue
Blue / Metal
Orange Wheel, Chrome OH5
T8551
Thailand
Lenny the Binoculars
Rocky Road
Metallic Yellow
Gray / Plastic
Red Chrome 5SP
T8552
Thailand
Rocky the Wrestler

Bucket O' Speed

Green

Green/







Plastic?

Green Chrome CT
T8549
Thailand

Bucket O'







Soldiers

Jammin' Jessie
Pearl White/ Mettalic Blue

Grey/







Plastic

Gold PR5
T8554
Thailand
Jessie

Zurg GT
Metallic Purple
Red/ Plastic
RLPR5
T8553
Thailand
Evil Emperor Zurg
Woody Wagon
Pearl White/ Mettalic Blue
Black/ Plastic
?
W4480
Thailand
Woody the Cowboy