Ad blocker interference detected!
Wikia is a free-to-use site that makes money from advertising. We have a modified experience for viewers using ad blockers

Wikia is not accessible if you've made further modifications. Remove the custom ad blocker rule(s) and the page will load as expected.
Tough Customer
Debut Series
Flying Colors
Produced
1975 - 1978
Designer
Larry Wood
Number
7655
Tough Customer Description
Mattel introduced the Tough Customer in 1975. appears it could be a M60.This was the first year military vehicles were released. The early version is the only tank to have the name cast into the base "Tough Customer".

Can you name 6 Redline Hot wheels that never had redlines? This is one. Two are the same cast with different names.and the other two are released the same year as the Tough Customer. Last one is a year later.
Re:released with different names and cast numbers see  Battle Tank (1982) in the Megaforce  series made for the  Megaforce Movie &  Action Command series Big Bertha (1985)
Versions
Tough Customer has come out in the following versions:
| Col # | Year | Series | Color | Tampo | Base Color / Type | Window Color | Interior Color | Wheel Type | Toy # | Country | Notes / Variations | Photo |
| --- | --- | --- | --- | --- | --- | --- | --- | --- | --- | --- | --- | --- |
| | 1975 | Flying Colors | Shiny Olive | White "Army" tampo on top | Olive / Plastic | None | None | Has small, hidden rollers | 7655 | Hong Kong | Tough Customer on base | |
| | 1977 | Flying Colors | dull Olive | White "Army" tampo on top | Olive / Plastic | None | None | Has small, hidden rollers | 7655 | Hong Kong | blank name | |
| 489 | 1996 | 1996 Hot Wheels | Metalflake Purple & Flat Black | Silver HW logo & 'Night Force' on rear | Black / Plastic | None | None | Black MGW | 16309 | China | | |
Similar Castings and Names
1982 Megaforce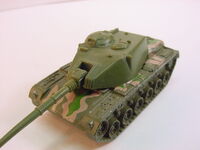 1985 Action Command
Gallery