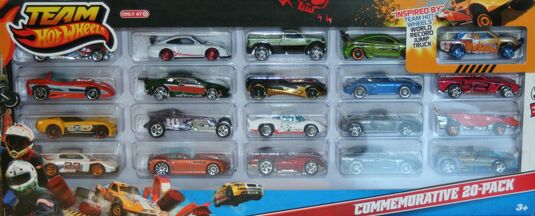 In 2011 Hot Wheels has gathered the best drivers from around the world to create an 'ultimate' stunt team. They are known racers and stunt drivers who are being kept hidden under their helmets as they do amazing stunts.
The first big stunt was called Fearless at the 500 where Tanner Foust jumped a RSP Pro2 Truck 302 feet for a new world record. The track he ran was built to look just like the orange stunt track we are all so familiar with.
In honor of Team Hot Wheels, a special line has come out that has special box deco of Team Hot Wheels. This is the Commemorative 20-Pack - Product #X3217. There are actually a few variations of this 20-pack, with some of the cars making it in different packs. One that is for sure in all packs is the replica of the jump truck in a special window all it's own.
The cars in the set range from very current models to some from the 80s. It can be a hit and miss with collectors for what they are looking for in their collection, but most are race themed cars and trucks. There are only four cars in this set that are not new paint versions (Off Track, Porsche 911 GT3 RS, Pony Up, and Maelstrom).
Version #1
| | | | | | | | | |
| --- | --- | --- | --- | --- | --- | --- | --- | --- |
| Model | Color | Tampo | Base Color | Window Color | Interior Color | Wheel Type | Country | Photo |
| | White | Team Hot Wheels Deco | Black/ Metal | Clear | Chrome | BPR5 | Malaysia | |
| | Metallic Lime Green | Black/Orange Deco | Black/ Plastic | Yellow Tint | Black | Orangeline PR5 | Malaysia | |
| Dodge M80 | Metalic Green | Light Green/ Brown Sides | Chrome/ Plastic | Clear | Black | PR5 | Malaysia | |
| | Metallic White | Headlights/ Taillights "GT3 RS" | Black/ Plastic | Grey Tint | Black | RPR5 | Malaysia | |
| | Orange | Blue/White Star | Unpainted Metal | Light Blue Tint | Chrome | 5SP | Malaysia | |
| GT-03 | Metallic Pink | Black Tampo | Chrome/ Plastic | Grey Tint | Black | PR5 | Malaysia | |
| Porsche Cayman S | Metallic Blue | Headlights/ Taillights | Grey/ Plastic | Clear | Black | OH5 | Malaysia | |
| CUL8R | Flat Black | Side Flames | Orange/ Metal | Red Tint | Gold | Goldline PR5 | Malaysia | |
| Custom Cougar | Green | Silver/ Orange Tampo | Chrome/ Plastic | Clear | Chrome | PR5 | Malaysia | |
| Silhouette II | Metallic Orange | Black/ White/ Silver/ Blue Tampo | Black/ Plastic | Light Blue Tint | White | OH5 | Malaysia | |
| | Orange | Black/ Silver Tampo | Unpainted Metal | none | Chrome | OPR5 | Malaysia | |
| Porsche Carrera GT | Metallic Grey | Headlights/ Taillights/ Badges | Black/ Plastic | Clear | Burgundy | PR5 | Malaysia | |
| Chaparral 2D | White | Orange Stripes '2' | Black/ Plastic | Light Blue Tint | Grey | LW | Malaysia | |
| Sweet 16 II | Metallic Purple | Black/ White Flames '16' | Unpainted Metal | Grey Tint | White | 5SP | Malaysia | |
| Pony-Up | Yellow | Sponsors '20' | Black/ Plastic | Grey Tint | Grey | Redline PR5 | Malaysia | |
| Maelstrom | Metallic Grey | Orange/ Yellow/ Blue Side Tampo | Blue/ Plastic | Light Blue Tint | Gold | PR5 | Malaysia | |
| Dodge Charger R/T | Metallic Black | Black Side Tampo Siver "R/T" | Black/ Plastic | Clear | Burgundy | OH5 | Malaysia | |
| 63 Corvette Stingray | Metallic Red | White/ Black Hood Roof Tampo | Chrome/ Plastic | Grey Tint | unknown | 5SP | Malaysia | |
| Chrysler Firepower Concept | Metalllic Light Orange | Grille/ Taillight Tampo | Black/ Plastic | Light Blue TInt | Chrome | 10SP | Malaysia | |
| Pikes Peak Celica | Metallic White | Orange/ Blue Racing Stripes '23' | Black/ Plastic | Clear | Black | Orange LW | Malaysia | |
Cars from 2011/2012 line
Other cars and bonus
10-packs, 3-packs