Team Hot Wheels: The Origin of Awesome!
Talk

0
Share
Ad blocker interference detected!
Wikia is a free-to-use site that makes money from advertising. We have a modified experience for viewers using ad blockers

Wikia is not accessible if you've made further modifications. Remove the custom ad blocker rule(s) and the page will load as expected.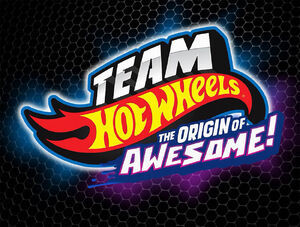 Team Hot Wheels: The Origin of Awesome!
is a full-length animated video released by Mattel & Universal to DVD/Blu-Ray on September 14, 2014 and premiering on Cartoon Network, November 6, 2014. It is the origin story of Team Hot Wheels when they were adolescent boys. They are skilled racers, but are hindered by their competiveness with each other. They must come together when a mysterious black car drives through their town, which creates a familiar orange track wherever it goes and transforms things it comes in contact with. With the assistance of a local garage owner named Larry, the boys figure out what teamwork is all about.
Notes
The four main cars that Team Hot Wheels drive in the video were released as part of the 2014 basic car release and the mysterious black car was a 2014 New Model release. The video also features four Mutant Machines, another Hot Wheels line released in 2014. The 2015 5-Pack versions of the 4 main cars more closely resemble the cars driven in the video, whereas the 2014 and 2015 versions of Rev Rod are seemingly identical. Even though each of the four team vehicles has the round flame symbol used on Treasure Hunt releases, none of them is a Treasure Hunt.
Cars & Drivers
Driver Name
Car Name
Driver
Video Car
Actual Car
(or Close Proximity)
Notes
Wyatt
Baja Truck

Video Version same as 2015 5-Pack Die-Cast Version
Rhett
Bone Shaker

Video Version same as 2015 5-Pack Die-Cast Version
Brandon
Quick n' Sik

Video Version same as 2015 5-Pack Die-Cast Version
Gage
Twin Mill

Video Version same as 2015 5-Pack Die-Cast Version, except for the size of the intakes
Jerry
Rev Rod

Video Version same as 2015 5-Pack Die-Cast Version
Larry
'57 Chevy Tow Truck

Video Version unlike any released Die-Cast Version
Mutant Machines
Car Name
Video Car
Actual Car
(or Close Proximity)
Notes
Commander Croc

Video Version similar to 2014 Die-Cast Version
Street Shark

Video Version similar to 2014 Die-Cast Version
Scorpedo

Video Version color unlike any released 2014 Die-Cast Version
Skullface

Video Version color unlike any released 2014 Die-Cast Version
Gallery