Ad blocker interference detected!
Wikia is a free-to-use site that makes money from advertising. We have a modified experience for viewers using ad blockers

Wikia is not accessible if you've made further modifications. Remove the custom ad blocker rule(s) and the page will load as expected.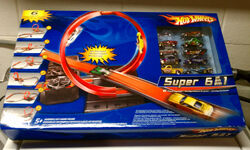 The Super 6 in 1 Track Set was released in 2006 and featured 10 cars with exclusive colors. The set retailed around $40 USD.
Exclusive Vehicles
The following cars were featured in this set:
| Casting | Color | Tampos | Toy # | Photo |
| --- | --- | --- | --- | --- |
| Mini Cooper | Orange | Black, Red, Green & White tampos w/ tiger & '102' on sides | H7036 | |
| 40 Somethin' | Metalflake Dark Red | Yellow, Blue & Green flames w/ '40' on sides & hood | H7036 | |
| Dodge Charger R/T | Metalflake Grey | Red & Black tampos w/ 'EX-44' on sides & hood | H7036 | |
| Blown Camaro | Blue | Red, White, Green & Black tampos w/ 'Mexico' & '5' on sides & hood | H7036 | |
| Custom '69 Chevy | Metalflake Yellow | Red, White, Purple & Black tampos w/ '69 Chevy' on sides | H7036 | |
| Vulture Roadster | Metalflake Orange | White tampos w/ 'Hot Wheels' & 'Zero G' on sides | H7036 | |
| 3-Window '34 | Green | | H7036 | |
| Power Pistons | Black | Brown, Yellow & White tampos w/ Hot Wheels logo on top | H7036 | |
| Custom Cougar | Metalflake Purple | White, Grey & Black tampos w/ 'Hot Wheels' on sides | H7036 | |
| Greased Lightnin' | Metalflake Light Blue | Red, Yellow, White & Black tampos w/ Hot Wheels logo on top | H7036 | |