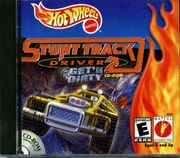 Stunt Track Driver 2: Get'n Dirty is a PC game developed by Mattel Media and published by THQ. It features a radical difference from the first Stunt Track Driver in the fact that the levels feature more terrain features than actual track. It is also notable that some of the cars that normally have standard wheels have off-roaders in this game. (E.G., Slideout, Turbo Flame, etc). As usual with Hot Wheels games, it features original castings for all the vehicles featured, making a fan of the game able to seek out their favorite car and own it in their real collection.
Playable Cars
Car
Based on:
Actual Version

(Or close proximity)

Slideout
1998 First Editions: #2/40

Tall Ryder
1996 Mainlines #481

Shock Factor
1998 Mainlines: #700

Commando
No real world variant

Enforcer
1996 Mainlines: #461

Radar Ranger
1998 Techno Bits Series: #4/4

Surf Crate
2000 First Edition Series: #13

Turbo Flame
Mega Graphics Series: #3/4

Nissan Hardbody
No real world variant

Gulch Stepper
1995 Mainlines: #251

Sting Rod
No real world variant

Treadator
Buggin' Out Series: #1/4

Roll Cage
2000 First Editions: #31/36
Non-Playable Cars
These vehicles appear in the backgrounds of the levels or as objects to avoid on the track.
Car
Based on:
Actual Version

(Or close proximity)

Tow Jam
1998 First Editions: #25/40

Power Rocket
1995 Model Series: #11/12

Speed Blaster
1995 Model Series #1/12

Good Humor Truck
1999 City Center 5-Pack

Hot Wheels 500
1995 Mainline Race Team Series: #2/4

Twin Mill
1969 Redlines

Fire Eater
1999 City Center 5-Pack

Way 2 Fast
1997 First Editions: #7/12

Sol-Aire CX-4
1998 Mainline: #823

Shadow Jet
1998 Techno Bits Series: #3/4

Radio Flyer Wagon
1998 Mainline: #827

Speed Blaster
2001 Alien Attack Playset
Screenshots