Ad blocker interference detected!
Wikia is a free-to-use site that makes money from advertising. We have a modified experience for viewers using ad blockers

Wikia is not accessible if you've made further modifications. Remove the custom ad blocker rule(s) and the page will load as expected.
Street Snorter Description
The 1973 Street Snorter is a retooled version of the Mighty Maverick, as with most 1973 models cost saving methods were used in the retooling. The rear wing was removed and the spectraflame paint was replaced with enamel paint, though the hood still opened. Capped redline wheels were used on the rear and open axel redlines in the front.
 Versions
The Street Snorter has come out in the following 1/64 versions:
| Year | Series | Color | Sticker | Base Color / Type | Window Color | Interior Color | Wheel Type | Toy # | Country | Notes / Variations | Photo |
| --- | --- | --- | --- | --- | --- | --- | --- | --- | --- | --- | --- |
| 1973 | 1973 | Dark Enamel Blue | None | Metal | Blue Tint | | RL | | HK | | |
| 1973 | 1973 | Enamel Fluorescent Lime Green | None | Metal | Blue Tint | | RL | | HK | | |
| 1973 | 1973 | Enamel Fluorescent Pink | None | Metal | Blue Tint | | RL | | HK | | |
| 1973 | 1973 | Dark Enamel Green | None | Metal | Blue Tint | | RL | | HK | | |
| 1973 | 1973 | Enamel Lemon Yellow | None | Metal | Blue Tint | | RL | | HK | | |
| 1973 | 1973 | Light Enamel Blue | None | Metal | Blue Tint | | RL | | HK | | |
| 1973 | 1973 | Light Enamel Green | None | Metal | Blue Tint | | RL | | HK | | |
| 1973 | 1973 | Enamel Orange | None | Metal | Blue Tint | | RL | | HK | | |
| 1973 | 1973 | Enamel Plum | None | Metal | Blue Tint | | RL | | HK | | |
| 1973 | 1973 | Enamel Red | None | Metal | Blue Tint | | RL | | HK | | |
| 1973 | 1973 | Enamel Yellow | None | Metal | Blue Tint | | RL | | HK | | |
Similar Castings
1970 Spectraflame Hot Wheels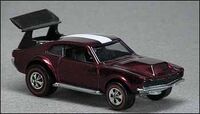 1974 Flying Colors Hot Wheels