The Hot Wheels Star Wars Carships lineup have hit the store shelves in October 2016. The cars themselves made their debut at the 2016 San Diego Comic-Con Hot Wheels booth. The cars are designed to represent the most famous starships from the Star Wars series. The name is a combination of "starships" and "cars".
For the launch of Star Wars Carships, Hot Wheels decided to built a 1:1 scale X-wing Fighter carship. This car was for display at the San Diego Comic-Con and Hot Wheels even allowed a select few to sit inside.
Single Packs
2017
2018
Convention Exclusive
2016 San Diego Comic-Con: Trench Run 4-Pack
This set marked the exclusive Comic-Con reveal of the Carships. All three Carship models came out as an exclusive during the 2016 San Diego Comic-Con. They all had Real Rider tires. The cars comes in a special display case in the shape of the Death Star's trench.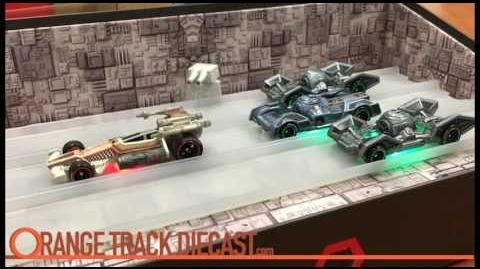 Accompanying the launch of the Carships was a San Diego Comic-Con exclusive 4-Pack. This SDCC set was a Hot Wheels style diorama that recreated the famous "Trench Run" scene from Star Wars: Episode IV - A New Hope (1977). This 4-car set featured the X-wing Fighter outrunning three TIE Fighters with the one in the middle being a special Darth Vader's TIE Fighter casting. This set is full of lights and sounds. It retailed for US$50 at the show, with a select few being sold on HotWheelsCollectors.com after the show for the same price.
Playsets
Star Destroyer Double Jump Duel
| Toy # | Casting Name | Body Color | Wheel Type | Notes | Photo 1 Loose | Photo 2 Box |
| --- | --- | --- | --- | --- | --- | --- |
| DPV38 | Millennium Falcon | Pearl Light Grey | Chrome Blue & Black MC5 | Playset exclusive | | |
Death Star Revolution Race
Toy #
Casting Name
Body Color
Wheel Type
Notes
Photo 1 Loose
Photo 2 Box
DHH82
X-wing Fighter
Pearl Beige
Chrome Red & Black OH5SP
Playset exclusive
TIE Fighter
Pearl Steel Blue
Chrome & Black PR5
Playset exclusive
TIE Striker Takedown
| Toy # | Casting Name | Body Color | Wheel Type | Notes | Photo 1 Loose | Photo 2 Box |
| --- | --- | --- | --- | --- | --- | --- |
| DWM92 | Rebel U-wing Fighter | Metalflake White | Yellow & Black PR5 | Playset exclusive | | |
Crait Assault Raceway