Ad blocker interference detected!
Wikia is a free-to-use site that makes money from advertising. We have a modified experience for viewers using ad blockers

Wikia is not accessible if you've made further modifications. Remove the custom ad blocker rule(s) and the page will load as expected.
Description
The original casting of Spoiler Sport had two small windows on the rear of the vehicle and lacked a parachute. When it was re-released in 1980, it sported one large window in the rear with a parachute. See photo below for detail, the 1977 version is on the left: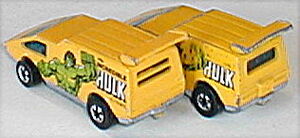 In 2011 the Spoiler Sport was retooled and included in the Hot Ones Series.
Versions
The Spoiler Sport has also been known as Incredible Hulk and Street Scorcher, and has come out in the following 1/64 scale versions:
Col #
Year
Series
Color
Tampo
Base Color
Window Color
Interior Color
Wheel Type
Toy #
Country
Notes / Variations
Photo
#16
1977
1977 Flying Colors
Light Green
Black, Red and Yellow "Spoiler Sport" and sunset graphics
Unpainted / Metal
Blue tint
Blue tint
RL
9641
Hong Kong
2 small windows in rear
#16
1977
1977 Flying Colors
Light Green
Black, Red and Yellow "Spoiler Sport" and sunset graphics
Unpainted / Metal
Blue tint
Blue tint
BW
9641
Hong Kong
2 small windows in rear
1980
1980 Hot Wheels
Light Green
Black, Red and Yellow "Spoiler Sport" and sunset graphics
Unpainted / Metal
Blue tint
Blue tint
BW
9641
Hong Kong
1 large window in rear
Box #9641
1979
Golden Machines 6-Pack
Gold Chrome
Orange, Red and Black Sunset Design with "Spoiler Sport" in Black on sides
Unpainted / Metal
Blue tint
Blue tint
BW
Hong Kong
2 Small Windows in rear
Box #9641
1979
Golden Machines 6-Pack
Gold Chrome
Orange, Red and Black Sunset Design with "Spoiler Sport" in Black on sides
Unpainted / Metal
Blue tint
Blue tint
BW
Hong Kong
1 Large window in rear
2878
1979
1979 Heroes
Yellow
Black, White and Green "Hulk" tampos
Unpainted / Metal
Blue tint
Clear Blue
BW
Hong Kong
1 Large Rear Window Was called "Incredible Hulk" for this release
2878
1979
1979 Heroes
Yellow
Black, White and Green "Hulk" tampos
Unpainted / Metal
Blue tint
Clear Blue
BW
Hong Kong
2 small Rear Window Was called "Incredible Hulk" for this release
2878
1979
1979 Heroes
Yellow
Black, White and Green "Hulk" tampos
Unpainted / Metal
Gray Tint
Gray Tint
BW
Hong Kong
2 small Rear Windows Was called "Incredible Hulk" for this release
9536
1982
White
Yellow, Purple and Blue flame tampo
Unpainted / Metal
Blue tint
Blue tint
BW
Hong Kong
1 large window in rear
1983
Speed Machines
Enamel Light Blue
Dark Blue, Light Green and Yellow stripe to flames tampos on sides
Black / Plastic
Black
Black
BW
Malaysia
1 Large rear window

Does not have glass in the rear window

1983
The Hot Ones
Pink
Black / Plastic
BW
Mexico Only
9536
1985
Ultra Hots
Metalflake Red
Ultra Hots tampos
Unpainted / Metal
Black
Black
UH
Hong Kong
For this release, renamed Street Scorcher
0910
2011
The Hot Ones
Metalflake Black
"Spoiler Sport" on side with sunset tampo
Unpainted / Metal
Blue tint
Blue
GHO
Thailand
2 small windows in rear
2011
The Hot Ones
Metalflake Purple
"Spoiler Sport" on side with sunset tampo
Unpainted / Metal
Orange tint
Orange
GHO
W3697
Thailand
6-Pack Exclusive
-
2012
The Hot Ones
Metalflake Teal
Yellow, Orange, & Red tampos on sides & across top
Unpainted / Metal
Tinted (Red)
Red
UH
W3822
Thailand
Base code(s): E29, E30
2012
The Hot Ones
Satin Lime
Red, Orange,and Yellow tampos on sides and across top
Unpainted / Metal
Orange tint
Orange
BW
W3808
Thailand
Base Code: E34
X8313
2013
Pop Culture
Black

Marvin the

Martian

Unpainted/

Metal

Red Tint
Red
RR6SP
W1560
Thailand
Base Code: E40
2015
Pop Culture Star Wars
Black
Darth Vader image on the sides, Red stripes on roof and sides.
Unpainted / Metal
Red tint
Black
RL
CFP39
Thailand
Base Code: H21