SpecTyte'
s design was originally begun by Tscherne. Jones completed the vehicle after Tscherne left the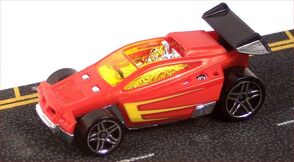 company. Much of the Teku vehicle graphics and logo / team design elements were designed by Jerry Thienprasidi. In the AcceleRacers series, SpecTyte was driven by Teku's Nolo Pasaro after Synkro was dismantled in the Metro realm. The car tops at 263 mph with its fuel cell powered 430hp fuel cell powered V6 engine, augmented by an electric motor. It can also use a momentary 1000BHP boost for extreme situations. This car has a carbon fiber monocoque with a lapis lazuli neon underglow. The exhaust pipes exit out the sides of the car, with intakes at the top. Tweeters are mounted in side pods, which are usually on f1 cars for added fuel space and aerodynamic efficiency. There is also a subwoofer in the two-seater cockpit. It has Nitrox-2 (NO
2
) boosters. The casting for the SpecTyte was updated in the later half of 2016, where the spoiler of the SpecTyte was no longer a separate piece and is now part of the body.
Versions
The SpecTyte has come out in the following versions:
Col #
Year
Series
Color
Tampo
Base Color
Window Color
Interior Color
Wheel Type
Toy #
Country
Notes / Variations
Photo
2005
AcceleRacers - Teku 8/9
Blue
Teku tampos

Unpainted / Metal

Tinted (Orange)

Grey
Blue tire CM6
Malaysia
2006
AcceleRacers - Realm Series
Black
Yellow & Silver Tampos

Unpainted / Metal

Tinted (Yellow)

Grey
Yellow tire CM6
Malaysia
Playable vehicle in Hot Wheels: Beat That!
118
2007
Track Stars 10/12
Lime Green
Blue, Black & White Tampos

Unpainted / Metal

Tinted (Blue)

Chrome
PR5
K7609
Malaysia
2008
Beast Bash 5-Pack
Red
Yellow Tampos

Unpainted / Metal

Tinted (Yellow)

Chrome
PR5
L9971
Thailand
2010
Color Shifters

Tinted (Red)

Red rimmed OH5
R1134
2011
Track Stunts 5-Pack
Bright Blue
Number 8
Unpainted / Metal
Tinted (Yellow)
Gold
Gold PR5
Thailand
Base code(s): C43
N/A
2012
Max Steel : Core Overload 5 pack
X1111
54 / 250
2016
HW Glow Wheels
Mystery Blue / Plastic
White, Yellow, Silver & Black stripes
Yellow / Metal
Tinted (Yellow)
Silver
Blue rimmed, glow-in-the Dark PR5
DHP79
Malaysia
Base code(s): H36
Updated tooling


Gallery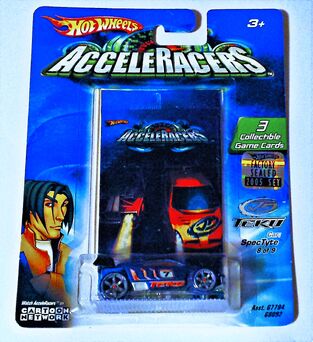 Ad blocker interference detected!
Wikia is a free-to-use site that makes money from advertising. We have a modified experience for viewers using ad blockers

Wikia is not accessible if you've made further modifications. Remove the custom ad blocker rule(s) and the page will load as expected.