Snake II Description
The Snake II was in it's own style of blister for this release. The Blister has a picture of both "Mongoose & Snake" Cars."Mongoose vs Snake" written just above the car on the cardboard. Plastic button. Released both Hong Kong and USA. Capped Redlines front & back.
The 1971 Snake II was issued in one color white.
Issued with a windshield.
Based on the plymouth barracuda.
Versions
This Snake II has come out in the following 1/64 scale versions:
| Year | Series | Color | Sticker | Base Color / Type | Window Color | Interior Color | Wheel Type | Toy # | Country | Notes / Variations | Photo |
| --- | --- | --- | --- | --- | --- | --- | --- | --- | --- | --- | --- |
| 1971 | Mongoose vs Snake | Enamel White | Blue w/ "snake" | Base type / Color | Blue tint | Black | Redline | 5953 | USA | | |
| 1971 | Mongoose vs Snake | Enamel White | Blue w/ "snake" | Base type / Color | Clear | Black | Redline | 5953 | Hong Kong | | |
Similar Casting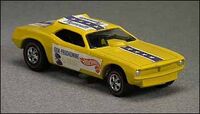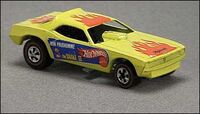 Gallery