Ad blocker interference detected!
Wikia is a free-to-use site that makes money from advertising. We have a modified experience for viewers using ad blockers

Wikia is not accessible if you've made further modifications. Remove the custom ad blocker rule(s) and the page will load as expected.
Snake II Description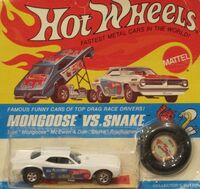 The Snake II was in it's own style of blister for this release. The Blister has a picture of both "Mongoose & Snake" Cars."Mongoose vs Snake" written just above the car on the cardboard. Plastic button. Released both Hong Kong and USA. Capped Redlines front & back.
The 1971 Snake II was issued in one color white.
Issued with a windshield.
Based on the plymouth barracuda.
Versions
This Snake II has come out in the following 1/64 scale versions:
| Year | Series | Color | Sticker | Base Color / Type | Window Color | Interior Color | Wheel Type | Toy # | Country | Notes / Variations | Photo |
| --- | --- | --- | --- | --- | --- | --- | --- | --- | --- | --- | --- |
| 1971 | Mongoose vs Snake | Enamel White | Blue w/ "snake" | Base type / Color | Blue tint | Black | Redline | 5953 | USA | | |
| 1971 | Mongoose vs Snake | Enamel White | Blue w/ "snake" | Base type / Color | Clear | Black | Redline | 5953 | Hong Kong | | |
Similar Casting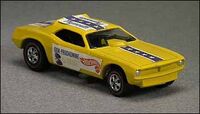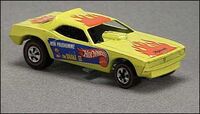 Gallery