Description
The Snake  was issued in the 1970 Hot Wheels line-up. Race car driver Don "Snake" Prudhomme's car was a 1970 Plymouth Barracuda Funny Car. He is most famous for racing Tom McEwen in his red 1970 Plymouth Duster, named Mongoose.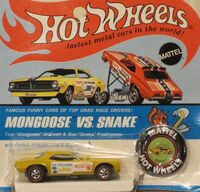 The Snake had its own style of blister for this release. The Blister has a picture of both "Mongoose & Snake" cars. "Mongoose vs Snake" written just above the car on the cardboard. It included a metal button and was released both as a Hong Kong version and an USA version. It had standard capped Redlines on the front and the back. 1970 was the only year of release for this casting with this name.
This car is playable in Hot Wheels: Turbo Racing.
Versions
The Snake has come out in the following 1/64 scale versions:
| Year | Series | Color | Sticker | Base Color / Types | Interior Color | Wheel Type | Toy # | Country | Notes / Variations | Photo |
| --- | --- | --- | --- | --- | --- | --- | --- | --- | --- | --- |
| 1970 | Mainline | Yellow | White sticker w/ 'Snake' on sides | Unpainted / Metal | Black | RL | 6409 | Hong Kong | | |
| 1970 | Mainline | Yellow | White sticker w/ 'Snake' on sides | Unpainted / Metal | Black | RL | 6409 | USA | | |
See also
Gallery