Sky Show Fleetside
Debut Series
Sky Show Stunt Set
Produced
1970 only
Designer
Harry Bradley (Custom Fleetside)

Unknown (Sky Show Fleetside)
Description
Sky Show Fleetside was a car issued as part of the Sky Show boxed sets. The Sky Show Fleetside had an orange ramp that replaced the bed cover, that launched either a helicopter or plane. It came in the "Sky Show" or the "Flyin' Circus" sets only.
It is decorated with white checkered-flag stickers on the doors on both sides saying "Sky Show ". The same base/chassis is used for both the Sky Show Fleetside and the Custom Fleetside.  There is no diffrence between the bases, they both read "Custom Fleetside".
The cosmetic difference between the Sky Show Fleetside and the normal Custom Fleetside is in the truck bed design. On the Sky Show Fleetside, the interior shelf/dashboard of the cab behind the seats extends from the cab, past the roof pillars, and into the box area a few millimeters. It looks like a small shelf when the ramp is removed. There is also a small square hole cut into the Sky Show Fleetside's cargo bed under the ramp, right against the rear of the cab. Another clue to the Sky Show Fleetside, is the taillights are painted horizontally onto the top side of the base, towards the upper part of the tailgate. Sky Show Fleetsides never had black-painted roofs.
On the Custom Fleestside, the interior does not stretch into the bed area, and there is no square hole cut into the truck bed. There is a divider partition flush with the back of the cab, then a gap (to allow the tonneau cover to raise up and down) and then the back wall of the truck bed. The taillights are painted vertically on the Custom Fleetside. The Custom Fleetsides were all painted with black roofs.
Versions
The Sky Show Fleetside has come out in the following 1/64 scale versions:
| Year | Series | Color / Tampo | Base Color | Window Color | Interior Color | Wheel Type | Cast # | Country | Notes / Variations | Photo |
| --- | --- | --- | --- | --- | --- | --- | --- | --- | --- | --- |
| 1970 | Set | Spectraflame Red | Unpainted / Metal | Clear | Black | RL | | USA | | |
| 1970 | Set | Spectraflame Yellow | Metal | Clear | Black | RL | | USA | | |
| 1970 | Set | Spectraflame Aqua | Metal | Clear | Black | RL | | USA | | |
| 1970 | Set | Spectraflame Blue | Metal | Clear | Black | RL | | USA | | |
| 1970 | Set | Spectraflame Green | Metal | Clear | Black | RL | | USA | | |
| 1970 | Set | Spectraflame Lt. Apple Green | Metal | Clear | Black | RL | | USA | | |
| 1970 | Set | Spectraflame Magenta | Metal | Clear | Black | RL | | USA | | |
| 1970 | Set | Spectraflame Orange | Metal | Clear | Black | RL | | USA | | |
| 1970 | Set | Spectraflame Olive | Metal | Clear | Black | RL | | USA | | |
| 1970 | Set | Spectraflame Purple | Metal | Clear | Black | RL | | USA | | |
| 1970 | Set | Spectraflame Hot Pink | Metal | Clear | Black | RL | | USA | | |
Similar Casting
Custom Fleetside (1968)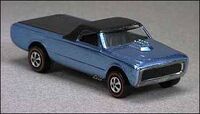 Sky Show Fleetside found with yellow sticker