Ad blocker interference detected!
Wikia is a free-to-use site that makes money from advertising. We have a modified experience for viewers using ad blockers

Wikia is not accessible if you've made further modifications. Remove the custom ad blocker rule(s) and the page will load as expected.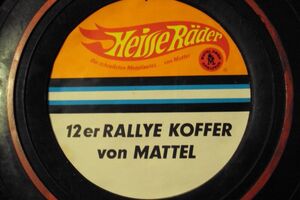 This Page is dedicated to Sets and Cases. Please look at box or case for the way it was printed.  Please link if there is a set page made. This is not for Multipacks.
Sets And Cases
Issued before the very first Hot Wheels cars. Thats right Mattel made car cases prior to ever even issuing cars.
Section heading
Write the second section of your page here.
Pre- 1968
| Year | Name | Cars | Toy # | Notes | Photo |
| --- | --- | --- | --- | --- | --- |
| 19 | | | | | |
1968
| Year | Name | Cars | Toy # | Notes | Photo |
| --- | --- | --- | --- | --- | --- |
| 1968 | 12 car Rally Case | | 5137 | | |
| 1968 | 12 car Rallye Koffer | | 5137 | Heisse Räder-Europe Only | |
| 1968 | | | | | |
1969
| Year | Name | Cars | Toy # | Notes | Photo |
| --- | --- | --- | --- | --- | --- |
| 19 | | | | | |
1970
| Year | Name | Cars | Toy # | Notes | Photo |
| --- | --- | --- | --- | --- | --- |
| 19 | | | | | |
1971
| Year | Name | Cars | Toy # | Notes | Photo |
| --- | --- | --- | --- | --- | --- |
| 19 | | | | | |
1972
| Year | Name | Cars | Toy # | Notes | Photo |
| --- | --- | --- | --- | --- | --- |
| 19 | | | | | |
1973
| Year | Name | Cars | Toy # | Notes | Photo |
| --- | --- | --- | --- | --- | --- |
| 19 | | | | | |
1974
| Year | Name | Cars | Toy # | Notes | Photo |
| --- | --- | --- | --- | --- | --- |
| 1974 | "Road King" Mountain Mining | Road King Truck and Trailer | 7623 | | |
| 1974 | "Road King" HighwayDrive-Ins | 1 car | 7624 | | |
1975
| Year | Name | Cars | Toy # | Notes | Photo |
| --- | --- | --- | --- | --- | --- |
| 1975 | Thundershift 500 | Torino Stocker, monte Carlo Stocker | 7673 | | |
1976
| Year | Name | Cars | Toy # | Notes | Photo |
| --- | --- | --- | --- | --- | --- |
| 1976 | 24 car Collector's Case | | 8227 | | |
| 19 | Loco-Motion | 1 car | 9275 | | |
| 19 | | | | | |
1977
| Year | Name | Cars | Toy # | Notes | Photo |
| --- | --- | --- | --- | --- | --- |
| 1977 | Turbo Blast 600 | P-911(black) + 1 car | 9876 | | |
| 1977 | | | | | |
| 1977 | Tirabuzon Thrill Driver | Thrill Driver Torino & Stocker | 9793 | Mexico | |
1978
1979
1980
| Year | Name | Cars | Toy # | Notes | Photo |
| --- | --- | --- | --- | --- | --- |
| 1980 | Great American Truck Race | Hammer Down, Movin' On | 1437 | | |