Ad blocker interference detected!
Wikia is a free-to-use site that makes money from advertising. We have a modified experience for viewers using ad blockers

Wikia is not accessible if you've made further modifications. Remove the custom ad blocker rule(s) and the page will load as expected.
Service Merchandise Classic American Car Collection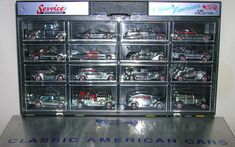 ---
The set came in a black plastic display case with a clear door. It was only available at Service Merchandise Stores in 1995.
| Casting Name | Body Color | Base Color | Window Color | Interior Color | Wheel Type | Country | Notes | Photo |
| --- | --- | --- | --- | --- | --- | --- | --- | --- |
| '56 Flashsider | Chrome | Chrome / Plastic | Blue | White | RL | Malaysia | Red "Hot Wheels" logo on back window | |
| Olds 442 W-30 | Chrome | Chrome / Plastic | Clear | grey | RL | Malaysia | Red "Hot Wheels" logo on back window | |
| Purple Passion | Chrome | Chrome / Plastic | Clear | Red | RL | Malaysia | Red "Hot Wheels" logo on rear fender | |
| '65 Mustang Convertible | Chrome | Unpainted / Metal | Clear | White | RL | Malaysia | Red "Hot Wheels" logo on window | |
| '67 Camaro | Chrome | Unpainted / Metal | Smoke | Red | RL | Malaysia | Red "Hot Wheels" logo on back window | |
| '59 Caddy | Chrome | Chrome / Plastic | Clear | Red | RL | Malaysia | "Service Merchandise" logo on both sides, Red "Hot Wheels" logo on window | |
| Auburn 852 | Chrome | Unpainted / Metal | Clear | Chrome | RL | Malaysia | Red "Hot Wheels" logo behind seat | |
| '57 T-Bird | Chrome | Chrome / Plastic | Blue | Clear Blue | RL | Malaysia | Red "Hot Wheels" logo on back window | |
| '63 Corvette | Chrome | Chrome / Plastic | Clear | Red | RL | Malaysia | Red "Hot Wheels" logo on front window | |
| Classic Caddy | Chrome | Unpainted / Metal | Clear | Red | RL | Malaysia | Red "Hot Wheels" logo next to passenger side window | |
| '31 Doozie | Chrome with Black roof | Unpainted / Metal | Clear | Chrome | RL | Malaysia | Red "Hot Wheels" logo on passenger side rear door | |
| 3-Window '34 | Chrome with Black running boards | Unpainted / Metal | Clear | Black | RL | Malaysia | Red "Hot Wheels" logo on back window | |
| '57 Chevy | Chrome | Chrome / Plastic | Blue | Clear Blue | RL | Malaysia | Red "Hot Wheels" logo on back window | |
| Old Number 5 | Chrome with Black ladders, Gold tank behind seats, Gold dash and grille | Unpainted / Metal | Clear | Red | RL | Malaysia | Red "Hot Wheels" logo on hood | |
| Fat Fendered '40 | Chrome | Unpainted / Metal | Clear | Red | RL | Malaysia | Red "Hot Wheels" logo above back bumper | |
| '32 Ford Delivery | Chrome with Black fenders | Unpainted / Metal | Smoke | Black | RL | Malaysia | Red "Hot Wheels" logo on rear door | |