Ad blocker interference detected!
Wikia is a free-to-use site that makes money from advertising. We have a modified experience for viewers using ad blockers

Wikia is not accessible if you've made further modifications. Remove the custom ad blocker rule(s) and the page will load as expected.
Scene Machines
Released in 1979 the Scene Machines were a special series of vehicles with a picture inside which could be seen through a special magnified lens molded in the back window.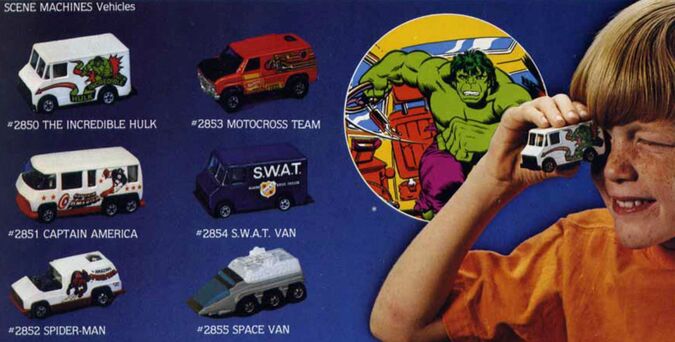 Versions
| Car Name | Year | Color | Tampo | Base Color / Type | Window Color | Interior Color | Wheel Type | Toy # | Country | Notes / Variations | Photo |
| --- | --- | --- | --- | --- | --- | --- | --- | --- | --- | --- | --- |
| Captain America Van | 1979 | White | Black, Blue and Red tampos | Red / Plastic | Clear | Blue | BW | 2851 | Hong Kong | | |
| Circus Cats | 1981 | White | Black and Orange tiger, Black and Yellow "RINGLING BROS AND BARNUM & BAILEY CIRCUS" | Unpainted / Metal | Clear | Black | BW | 3303 | Hong Kong | | |
| Racing Team | 1981 | Yellow | Black, Red and White "Racing Team" #1 Hot Wheels logo tampos | Black / Plastic | Clear | Brown | BW | | Hong Kong | | |
| The Incredible Hulk | 1979 | White | Green, Black and Red "Incredible Hulk" | Black / Plastic | Clear | Black | BW | 2850 | Hong Kong | | |
| Motocross Team | 1979 | Red | Yellow, White, Black | Unpainted / Metal | Clear | Black | BW | 2853 | Hong Kong | | |
| Space Van | 1979 | Grey w/White Plastic Top | no tampo | Chrome Plastic | Clear | Chrome | BW | 2855 | Hong Kong | | |
| Rescue Squad | 1981 | Red w/Red Plastic Top | no tampo | Chrome Plastic | Clear | Chrome | BW | 2855 | Hong Kong | | |
| Spider-Man Van | 1979 | White | Black, Red and Blue "Spider Man" | Blue / Plastic | Clear | Red | BW | 2852 | Hong Kong | | |
| S.W.A.T. Van | 1979 | Dark Blue | White, "S.W.A.T." logo on sides | Black / Plastic | Yellow | Brown | BW | 2854 | Hong Kong | | |