Ad blocker interference detected!
Wikia is a free-to-use site that makes money from advertising. We have a modified experience for viewers using ad blockers

Wikia is not accessible if you've made further modifications. Remove the custom ad blocker rule(s) and the page will load as expected.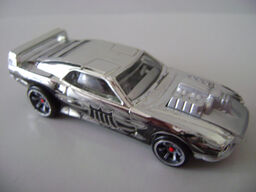 The
Rivited
is a Hot Wheels Original Design. It was introduced in the
AcceleRacers
line in 2005. This car was named after a wrestling move. In the Acceleracers series, this car was driven by 
Taro Kitano
of the Metal Maniacs.
Versions
Rivited has been released in the following versions:
| Coll # | Year | Series | Color | Tampo | Base Color | Window Color | Interior Color | Wheel Type | Toy # | Country | Notes | Photo |
| --- | --- | --- | --- | --- | --- | --- | --- | --- | --- | --- | --- | --- |
| N/A | 2005 | AcceleRacers Metal Maniacs #4 | Metallic Orange | Black Metal Maniacs Tampos | Unpainted / Metal | Tinted | Chrome | Chrome-Rimmed, Gray CM5 | G8099 | Malaysia | | |
| N/A | 2005 | AcceleRacers | Metallic Orange | Black Metal Maniacs Tampos | Unpainted / Metal | Tinted | Chrome | Chrome-Rimmed, Gray CM6 | G8099 | Malaysia | | |
| N/A | 2006 | AcceleRacers | Chrome | Black Metal Maniacs Tampos | Unpainted / Metal | Clear | Silver | Chrome-Rimmed, Gray CM6 | J7247 | Malaysia | | |
| 114 | 2007 | Track Stars Series #6 | Metallic Orange | White, Red, Black Star Tampos | Unpainted / Metal | Tinted | Chrome | Chrome PR5 | 7605 | Malaysia | | |
| N/A | 2008 | Drop Tower Deluxe Stunt | Light Blue | Red, Black & White Tampos. "Rivited" "6605" | Unpainted / Metal | Blue Tint | Chrome | Red Chrome PR5 | M2605 | Malaysia | Also in 20-Pack | |
| 16 / 25 | 2009 | Connect Cars: Track Legends | White | Orange, Black & Gray "Boltz" Tampos #25 | Unpainted / Metal | Orange Tint | Chrome | Black Rim, Red Lip PR5 | P2117 | Malaysia | Base Code(s): | |
| | 2010 | Demolition Derby 5 Pack | Light Blue | White Flames, Black Panel W/# 68 & RIVITED on Sides | Unpainted / Metal | Blue Tint | Chrome | 5SP Front Is Chrome, Rear is Copper Chrome | R0971 | Thailand | Base Code(s): C13 | |
| | 2011 | 3-Lane Super Speedway Exclusive | Light Blue | Red, Black & White Tampos. "Rivited" "6605" | Unpainted / Metal | Blue Tint | Chrome | Red Chrome PR5 | | Thailand | Base Code(s): | |
| | 2011 | Police Pursuit 5-Pack | Green | Yellow, orange & black tampos | Unpainted / Metal | Tinted | Dark Chrome | PR5 | T8630 | Thailand | Base Code(s): | |
| | 2011 | Fright Freighter (Truckin' Transporters) | Black | Green tampos and skull with bones | Unpainted / Metal | Red | Dark Chrome | PR5 | W4670 | Thailand | Base Code(s): | |
| N/A | 2012 | Light Speeders | Yellow | TAMPOS | Unpainted / Metal | Clear Blue | INTERIOR | PR5 | W3853 | Thailand | Base Code(s): | |
| N/A | 2012 | Daredevil Racers 5-Pack | | | | | | | W4253 | | | |
| 147 | 2013 | HW Racing - HW Chrome Racers | Chrome | 27 on Sides | Black / Metal | Green Tint | Gold Chrome | PR5 | X1775 | Malaysia | Base Code(s): F27 | |
| N/A | 2015 | Multipack Exclusive | Black | Yellow and Red 27 on Sides | | Tinted (Yellow) | Chrome | Black with Red Lip PR5 | | Malaysia | Base Code(s):  | |
| N/A | 2016 | Captain America 75th Anniversary Series | Black | Winter Soldier graphics | | | | | | | Base Code(s):  | |
| N/A | 2016 | Batman v Superman 5-Pack | Blue | Superman logo | Unpainted / Metal | Tinted (Yellow) | Chrome | Red-Rim, Black PR5 | DJD23 | Malaysia | Base Code(s): J06 | |
Gallery