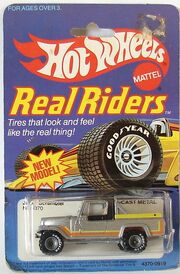 Real Riders may refer to one of the following:
Real Riders Series, the name of a series of Hot Wheels cars featuring the wheels described below.
Real Rider Wheels, the term commonly used to describe any 2-piece wheel that features a rubber tread.

Real Riders were a concept developed by Bob Rosas and Larry Wood to appeal to the adult collector.  Bob Rosas, Hot Wheels Designer and Engineer 1969-1989, has said that, "We were aware that many older collectors, really liked the realistic aspects of Hot Wheels, and real rubber tires and white lettering with mag style wheels were a natural."