Ad blocker interference detected!
Wikia is a free-to-use site that makes money from advertising. We have a modified experience for viewers using ad blockers

Wikia is not accessible if you've made further modifications. Remove the custom ad blocker rule(s) and the page will load as expected.
Ramp Truck Description
The Ramp Truck was introduced in 1991 as a slightly modified casting of the Crack-Ups Big Truck "Wreckin' Rig," hence the 1986 copyright date on the base. Production ended in 2001 with a Final Run series edition.
Versions
The Ramp Truck has come out in the following versions:
| Col # | Year | Series | Color | Tampo | Base Color / Type | Window Color | Interior Color | Wheel Type | Toy # | Country | Notes | Photo |
| --- | --- | --- | --- | --- | --- | --- | --- | --- | --- | --- | --- | --- |
| 108 | 1991 | Hot Wheels | White | Blue, Yellow and Red | Unpainted / Metal | Clear | N/A | BW | 5343 | Malaysia | | |
| 108 | 1991 | Hot Wheels | White | Blue, Yellow and Red | Unpainted / Metal | Clear | N/A | BW | 5343 | Malaysia | Clear | |
| 187 | 1992 | Hot Wheels | Yellow | Yellow and Red "Hot Wheels" logo | Unpainted / Metal | Black | N/A | BW | 0700 | Malaysia | All Blue card | |
| 187 | 1996 | Hot Wheels | Yellow | Yellow and Red "Hot Wheels" logo, Blue | Unpainted / Metal | Black | N/A | 7SP | 0700 | Malaysia | Blue/White card | |
| 187 | 1996 | Hot Wheels | Yellow | Yellow and Red "Hot Wheels" logo, blue | Unpainted / Metal | Black | N/A | SB | 0700 | Malaysia | Blue/White card | |
| 337 | 1995 | Racing Metals | Pink Chrome | Yellow and Red "Hot Wheels" logo | Unpainted / Metal | Black | N/A | 7SP | 13324 | Malaysia | | |
| 337 | 1995 | Racing Metals | Royal Blue Chrome | Yellow and Red "Hot Wheels" logo | Unpainted / Metal | Black | N/A | 7SP | 13324 | Malaysia | | |
| 392 | 1996 | Race Team Series II | Metalflake Blue | Yellow and Red "Hot Wheels" logo | Unpainted / Metal | Clear | Blue | 7SP | 15233 | Malaysia | Clear | |
| 392 | 1996 | Race Team Series II | Metalflake Blue | Yellow and Red "Hot Wheels" logo | Unpainted / Metal | Tinted | Blue | 5SP | 15233 | China | | |
| | 1998 | Showroom Specials 5-Pack | Dark Metalflake Blue | Gold and Black, "Fischer Motors Limited" | Unpainted / Metal | Black | N/A | SB | | | | |
| | 1998 | Showroom Specials 5-Pack | Light Metalflake Blue | Gold and Black, "Fischer Motors Limited" | Unpainted / Metal | Black | N/A | SB | | | | |
| 774 | 1998 | 1998 Hot Wheels | Dark Metalflake Green | Yellow and Red "Hot Wheels" logo, Blue "24" "Towing" | Unpainted / Metal | Black | N/A | SB | | | | |
| 1060 | 1999 | 1999 Hot Wheels | Black | Yellow and Red "Hot Wheels" logo, Blue "24" "Towing" | Unpainted / Metal | Black | N/A | 5DOT | | China | | |
| | 2001 | Final Run Series | Gold | Black w/Orange red flame. FR logo on side and top | Black-Painted / Metal | Black | N/A | RR | | Thailand | | |
Similar Casting and Names
Wreckin' Rig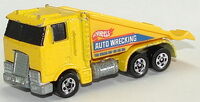 Gallery