Ad blocker interference detected!
Wikia is a free-to-use site that makes money from advertising. We have a modified experience for viewers using ad blockers

Wikia is not accessible if you've made further modifications. Remove the custom ad blocker rule(s) and the page will load as expected.
Prowler
Debut Series
1973
Produced
1973
Designer
Darryl Starbird (Lil' Coffin) Howard Rees(Hot Wheels)
Number
6965
Prowler Description
Released as the Prowler in 1973.  It came in assorted enamel colors. It was the same cast as The Demon (1970). Due to lead in the candy paints, Mattel Discontinued Spectraflame paint in 1973. So in 73' all cars in the line-up got a new enamel paint scheme. Due to trying to cut cost in manufacturing Mattel also put a new style of straight axle on the front of the cars.
Versions
This Hot Wheels vehicle has come out in the following 1/64 scale versions:
| Year | Series | Color | Base Color / Type | Window Color | Interior Color | Wheel Type | Toy # | Country | Notes / Variations | Photo |
| --- | --- | --- | --- | --- | --- | --- | --- | --- | --- | --- |
| 1973 | 1973 | Enamel Red | Metal | | | Redline | 6965 | HK | | |
| 1973 | 1973 | Enamel Lt. Green | Metal | | | Redline | 6965 | HK | | |
| 1973 | 1973 | Enamel Dk. Green | Metal | | | Redline | 6965 | HK | | |
| 1973 | 1973 | Enamel Lemon Yellow | Metal | | | Redline | 6965 | HK | | |
| 1973 | 1973 | Enamel Orange | Metal | | | Redline | 6965 | HK | | |
| 1973 | 1973 | Enamel Plum | Metal | | | Redline | 6965 | HK | | |
| 1973 | 1973 | Enamel Lime Green | Metal | | | Redline | 6965 | HK | | |
| 1973 | 1973 | Enamel Lt. Blue | Metal | | | Redline | 6965 | HK | | |
| 1973 | 1973 | Enamel Dk. Blue | Metal | | | Redline | 6965 | HK | | |
Similar Castings and Names
1970 Spectraflame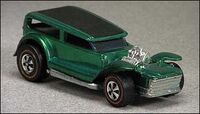 1974 Flying Colors