Pro Circuit Series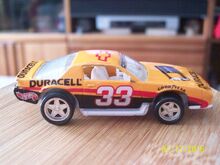 Hot wheels first introduction to racing car series other than drag racing. Released only 2 years 1992 - 1993. They came with a collector car and card on a over sized blisterpack. This is sub series not part of the regular lineup. Although some casting cross over into the regular lineup. This sub set included Drag Racing, Nascar and Indy style cars.
They were all made in China
Indy Versions
This Hot Wheels vehicle has come out in the following 1/64 scale versions:
Notes: This a modified casting.
| Year | name | Color | Tampo | Base Color / Type | Window Color | Interior Color | Wheel Type | Toy # | Driver | Notes / Variations | Photo |
| --- | --- | --- | --- | --- | --- | --- | --- | --- | --- | --- | --- |
| Year | Series | | | Base type / Color | | | Wheel type | | | | |
| 1992 | #26 Quaker State | Green & White | "Quaker State" | Chrome Metal | | White | PC6 Chrome | 2698 | Roberto Guerrero | | |
| 1993 | Promo, Fuji | Red/White/Green | Fuji Film 2 | Unpainted metal | | Gold and purple drivers | PC6 | | | Long rear wing | |
| 1993 | #2 Texaco | White & Black | "TEXACO", "Kmart" | Black Metal | N/A | Black | PC6 Grey | 2677 | Mario Andretti | | |
| 1993 | #1 Texaco | White & Black | "TEXACO", "Kmart"  | Black Metal | N/A | Black | PC6 Grey | 2638 | Michael Andretti | | |
| 1993 | #3 Valvoline | Blue, White & Red | "Valvoline" | Chrome Metal | N/A | Blue | PC6 Chrome | 2690 | Al Unser Jr. | | |
| 1993 | #4 Penske | Orange & White | Black "PENSKE" | Chrome Metal | N/A | Bright Orange | PC6 Chrome | 2690 | Rick Mears | | |
| 1993 | #5 Penske | Orange & White | Black "PENSKE" | Chrome Metal | N/A | Bright Orange | PC6 Chrome | 2694 | Emerson Fittipalbi | | |
Similar Castings and Names
Formula Fever 1983
Thunderstreak 1985
Drag Racing Versions
This Hot Wheels vehicle has come out in the following 1/64 scale versions:
| Year | Name | Color | Tampo | Base Color / Type | Window Color | Interior Color | Wheel Type | Toy # | Driver | Notes / Variations | Photo |
| --- | --- | --- | --- | --- | --- | --- | --- | --- | --- | --- | --- |
| Year | | | | Base type / Color | | | Wheel type | | | | |
| 1992 | Castrol GTX Funny Car | White | Green and Red "Castrol", Black "GTX" tampos | Purple tint / Metal | Black tint | Unpainted / Metal | PC6 | 7608 | John Force | | |
| 1992 | King Kenny Funny Car | Red | Green, Black and White "King Kenny" tampos | Purple tint / Metal | Gray tint | Unpainted / Metal | PC6 | 7608 | Kenny Bernstien | | |
Similar Casting and Names
1990 Hot Wheels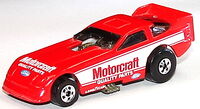 Nascar and Oval track Versions
This Hot Wheels vehicle has come out in the following 1/64 scale versions:
| Year | Name | Color | Tampo | Base Color / Type | Window Color | Interior Color | Wheel Type | Toy # | Driver | Notes / Variations | Photo |
| --- | --- | --- | --- | --- | --- | --- | --- | --- | --- | --- | --- |
| Year | | | | Base type / Color | | | Wheel type | | | | |
| 1993 | Camaro Z28 | Blue | White, Red "25", Hot Wheels tampos | Metal/White | Clear | White | Red/White PC5 | 2115 | Jack Baldwin | Trading Card #1 | |
| 1993 | Pontiac Grand Prix | Black | Green, Yellow "42", "Mellow Yellow" tampos w/ racing sponsors | Plastic/Black | Clear | Light Gray | Gray PC5 | 2628 | Kyle Petty | Trading Card #6 | |
| 1993 | Ford Thunderbird | White & Blue | Red & Light Blue stripes, white "6", white "Valvoline" tampos w/ racing sponsors | Plastic/Black | Clear | Gray | Gray PC% | 2565 | Mark Martin | Trading Card #7 | |