Porsche 917
Debut Series
1973 Hot Wheels
Produced
1973
Designer
Ira Gilford
Number
6972
Versions
1973 issued cars are a stand alone year. Gone were the spectraflame paints. 1973 models were issued in only Enamel paints.
The Porsche 917 has come out in the following versions:
1970 Spectraflame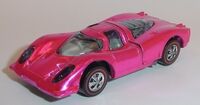 1974 Flying Colors Reissue
In 1974 Flying Colors with the bright new tampos

P-917 1974 Flying Colors
Ad blocker interference detected!
Wikia is a free-to-use site that makes money from advertising. We have a modified experience for viewers using ad blockers

Wikia is not accessible if you've made further modifications. Remove the custom ad blocker rule(s) and the page will load as expected.