Ad blocker interference detected!
Wikia is a free-to-use site that makes money from advertising. We have a modified experience for viewers using ad blockers

Wikia is not accessible if you've made further modifications. Remove the custom ad blocker rule(s) and the page will load as expected.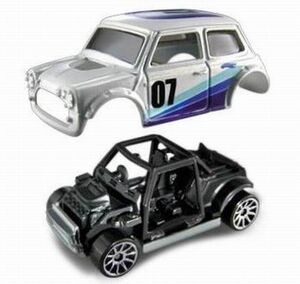 Released in 2007, the Pop-Offs Series featured 4 Hot Wheels cars that the body completely comes off the chassis by simply pushing back the lever on the rear of the base to allow the body to Pop-Off.
Below the 2007 Pop-Offs Series are other Pop-Offs that came out in Hot Wheels.

2007 Pop-Offs
The following Hot Wheels were in the Pop-Offs Series:
| # in Series | Casting Name | Color | Tampo | Base Color | Window Color | Interior Color | Wheel Type | Country | Notes | Photo |
| --- | --- | --- | --- | --- | --- | --- | --- | --- | --- | --- |
| 1 | Mini Cooper | White | Blue tampos and Black "07" on sides, and roof | Unpainted Metal | Tinted | Black | 10SP | Malaysia | | |
| 2 | Hyperliner | Flat Black | Red and White Tampos | Gray | Red | Gray / Gray Roll Cage | Gray OH5 | Malaysia | | |
| 3 | Volkswagen New Beetle Cup | Metalflake Teal | Yellow, Black, and White tampos with Stars and "11" on sides | Black Plastic | Clear | Black with Yellow Roll Cage | Yellow 10SP | Malaysia | | |
| 3 | Volkswagen New Beetle Cup | Metalflake Teal | Yellow, Black, and White tampos with Stars and "11" on sides | Black Plastic | Clear | Black with Yellow Roll Cage | 10SP | Malaysia | | |
| 4 | Ground FX | Metalflake Purple | Purple and Dark Purple tampos on sides and top | Black | Purple Tint | Chrome | SK5 | Malaysia | | |
Hot Wheels Pop-Offs
The following Hot Wheels were additional Pop-Offs that Mattel produced:
Col #
Year
Casting Name
Color
Tampo
Base Color
Window Color
Interior Color
Wheel Type
Toy #
Country
Notes / Variations
Photo
047
2003
2002 Autonomy Concept
Silver
Blue
Blue
SK5
56377