This is the Octopark Playset, released in 2007. It featured a Deora II in an exclusive color. There was a button you could push and a voice would say things such as "Ah, forget about it."
Features
"It's tentacle trouble at the shore! Launch your Hot Wheels car from the shark tooth gate and avoid the tentacle traps. Time your race just right and knock out this Octo-menace! Miss, and you'll take a dive!
Sharkfin Launcher
Tentacle Ejector
Chomping Jaws
1 Hot Wheels Vehicle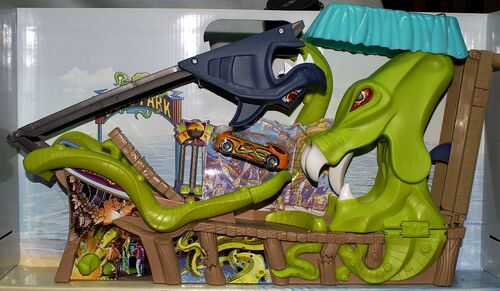 Ad blocker interference detected!
Wikia is a free-to-use site that makes money from advertising. We have a modified experience for viewers using ad blockers

Wikia is not accessible if you've made further modifications. Remove the custom ad blocker rule(s) and the page will load as expected.