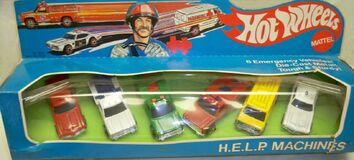 Multipacks were first introduced in 1970 and have come in many forms. They have been issued yearly since 1975. The back of the packages provides an assorment of information on other Multipacks. Although Mattel often would change colors. Sometimes casting would first be seen in multipacks or just a one color could be found in Multipacks.
Mattel has issued many forms of Multipacks
List
Ad blocker interference detected!
Wikia is a free-to-use site that makes money from advertising. We have a modified experience for viewers using ad blockers

Wikia is not accessible if you've made further modifications. Remove the custom ad blocker rule(s) and the page will load as expected.