Ad blocker interference detected!
Wikia is a free-to-use site that makes money from advertising. We have a modified experience for viewers using ad blockers

Wikia is not accessible if you've made further modifications. Remove the custom ad blocker rule(s) and the page will load as expected.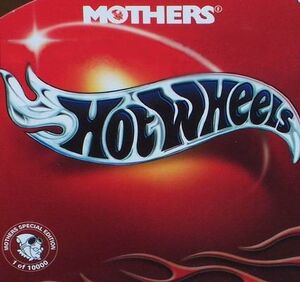 Special Mothers Wax Promotions Started in 2003 and ran into 2004. Cars came with special Hot Wheels Wax from Mothers. Carson Lev put this program together and Chip Foose designed graphics for many of the early models. Eric Tscherne did the illustrations for the Wax. Cars were also released via HotWheelsCollectors.com and at the 2003 Irvine Convention.
Below is a list of all Hot Wheels Mothers Wax Series.
2003
2003 Mothers Wax Series #1
| Toy # | Year | Series Name | Casting | Photo | Notes |
| --- | --- | --- | --- | --- | --- |
| 85659 | 2003 | Mothers Wax Series #1 | '33 Ford Roadster | | Graphics by Chip Foose |
| 85660 | 2003 | Mothers Wax Series #1 | Dairy Delivery | | Graphics by Chip Foose |
| 85661 | 2003 | Mothers Wax Series #1 | '70 Chevelle SS | | Graphics by Chip Foose |
| 85662 | 2003 | Mothers Wax Series #1 | '56 Ford Truck | | Graphics by Chip Foose |
2003 Mothers Wax Special Edition
| Toy # | Year | Series Name | Casting | Photo | Notes |
| --- | --- | --- | --- | --- | --- |
| 85659 | 2003 | Mothers Wax Special Edition | Mini Cooper S | | This model is based on a full size Mini Cooper that Mothers' Jim Halloway and his brother raced. |
2003 Mothers Wax Series #2
Toy #
Year
Series Name
Casting
Photo
Notes
85683
2003
Mothers Wax Series #2
3-Window '34
85684
2003
Mothers Wax Series #2
Go Kart
85686
2003
Mothers Wax Series #2
S'Cool Bus
2004
2004 Mothers Wax Series #2
Toy #
Year
Series Name
Casting
Photo
Notes
85685
2004
Mothers Wax Series #2
Scorchin' Scooter
2004 Mothers Wax Special Edition
| Toy # | Year | Series Name | Casting | Photo | Notes |
| --- | --- | --- | --- | --- | --- |
| C6051 | 2004 | Mothers Wax Special Edition | 1970 Mustang Mach 1 | | Graphics by Tscherne |
| C6052 | 2004 | Mothers Wax Special Edition | Passion | | Graphics by Larry Wood |