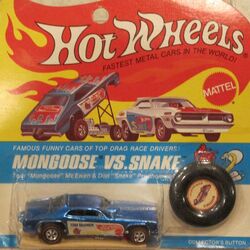 Mongoo$e II Description
Mongoose II was a car in the 1971 Hot Wheels line-up, a sequel to the Mongoo$e  casting released in 1970. This car is modeled after the Plymouth Duster.
Issued on a blisterpack with once again special art work. The Cars Snake & Mongoo$e were on the cardboard, showing the sticker & color change-up for 1971. Mattel still had major sponsorship in 1971.
The Mongoose II was only issued in spectraflame Blue. Issued again with a windshied. Flame stickers on a sheet under the car for the top,released by both USA and Hong Kong. Base is 2 piece, motor riveted to base. Black hood prop and roll cage.
Versions
The Mongoose II has come out in the following 1/64 scale versions:
| Year | Series | Stickers | Base Color | Window Color | Interior Color | Wheel Type | Toy # | Country | Notes / Variations | Photo |
| --- | --- | --- | --- | --- | --- | --- | --- | --- | --- | --- |
| 1971 | | Flames sheet | Metal | Blue tint | Black Roll Cage | Redline | | Hong Kong | | |
| 1971 | | | Metal | Clear | Black Roll Cage | Redline | | USA | | |
Similar Castings or Names
1970 Enamel Mongoo$e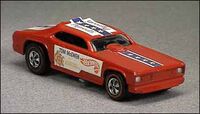 1973 Enamel Mongoo$e II