Ad blocker interference detected!
Wikia is a free-to-use site that makes money from advertising. We have a modified experience for viewers using ad blockers

Wikia is not accessible if you've made further modifications. Remove the custom ad blocker rule(s) and the page will load as expected.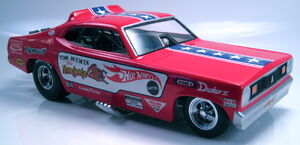 History of Tom "Mongoo$e" McEwen
Description
The Mongoo$e has come out it several versions, which seems to confuse people about either the name or the car driven by Tom McEwen. First off the only funny car Tom drove while being sponsered by Hot Wheels was a Duster, Mattel in cost saving measures started only issuing one cast( the cuda) years later with both "Mongoo$e" & "Snake" on the side. Mattel official names for the Tom "Mongoo$e" McEwen cars are easy;
Mongoose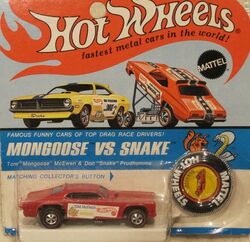 Mongoose II
There are also Dragsters:
Mongoose Rail Dragster (front engine)
Mongoose Rear Engine Dragster (wedge)
Tom never even drove a wedge style dragster aka Rear engine.  The "Mongoo$e" was issued in enamel Red. with lifting body to show the chassis, a prop to hold it up and a black roll cage. Modeled after a Plymouth Duster. Was released from both the USA and Hong Kong.
This car is playable in Hot Wheels: Turbo Racing.
Versions
The Mongoose has come out in the following 1/64 scale versions:
| Year | Series | Stickers | Base Color | Window Color | Interior Color | Wheel Type | Toy # | Country | Notes / Variations | Photo |
| --- | --- | --- | --- | --- | --- | --- | --- | --- | --- | --- |
| 1971 | 1971 | White w/ the "Goo$e" | Metal | blue tint | black roll cage | Redline | 6410 | | | |
Similar Castings or Names
1971 Spectraflame Mongoo$e II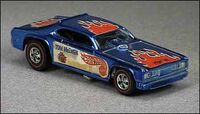 1973 Enamel Mongoo$e II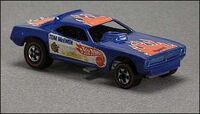 Rivalry the "Mongoo$e" vs the "Snake"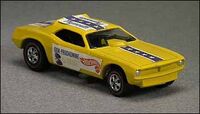 Gallery
Re-cast Versions
The Mongoose has come out in the following 1/64 scale versions:
Year
Series
Color / Tampo
Base Color
Window Color
Interior Color
Wheel Type
Toy #
Country
Notes / Variations
Photo
1994
1994 Vintage Series
red metallic
RL
25th Anniversary
2012
NHRA Championship Drag Racing
red / 

Mongoose race deco on sides, White & Blue stripes with White stars across top

Unpainted / Metal

Clear

Black

GYRRMag

RR

W8308

Thailand