Ad blocker interference detected!
Wikia is a free-to-use site that makes money from advertising. We have a modified experience for viewers using ad blockers

Wikia is not accessible if you've made further modifications. Remove the custom ad blocker rule(s) and the page will load as expected.
'75 Mighty Maverick Description
Reintroduced into the line-up in 1975. The Mighty Maverick a re-issue of the Mighty Maverick (1970). Missing the rear wing like it's cousin the '73 Street Snorter. Still giving you that feeling that it was quick out of the hole and a strong 1/4 mile run look, with the bulged hood, short stance. Just missing the wheelie-bars.
Hood cast shut
Made in Hong Kong
Versions
This Mighty Maverick has come out in the following 1/64 scale versions:
| Year | Series | Color | Tampo | Base Color / Type | Window Color | Interior Color | Wheel Type | Toy # | Country | Notes / Variations | Photo |
| --- | --- | --- | --- | --- | --- | --- | --- | --- | --- | --- | --- |
| 1975 | Flying Colors | Light Enamel Green | White & Blue stiripes w/ arrow on top | Metal | Blue tint | Black | RL2 | 7653 | HK | Alt. Color | |
| 1975 | Flying Colors | Dark Enamel  Blue | White, Orange & Yellow stiripes w/ arrow on top | Metal | Blue tint | Black | RL2 | 7653 | HK | | |
| 1975 | Super Chromes | Chrome | Yellow & Blue stiripes w/ arrow on top | Metal | Blue tint | Black | RL2 | 7653 | HK | | |
| 1975 | Super Chromes | Chrome | Yellow & Blue stiripes w/ arrow on top | Metal | Blue tint | Black | BW | 7653 | HK | | |
Similar Castings
1970 Spectraflame Hot Wheels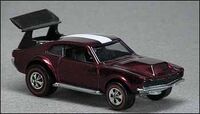 1973 Enamel Paint Hot Wheels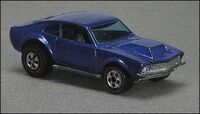 Gallery