Ad blocker interference detected!
Wikia is a free-to-use site that makes money from advertising. We have a modified experience for viewers using ad blockers

Wikia is not accessible if you've made further modifications. Remove the custom ad blocker rule(s) and the page will load as expected.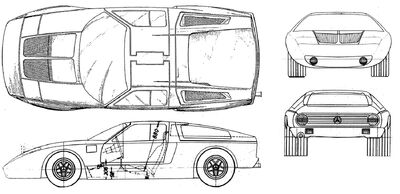 Description
The prototype vehicle never made into production but the 1974 Hot Wheels did. Released in Enamel Red with a bright stars & stripes tampo. This cast ran all the way to 1977 but the early version were only avaliable for a very short time. The Chrome plastic base version has not been found in Blister as of yet.
Another interesting note on early '74's is they can be found with a white undercoat, under the main enamel paint.
The Mercedes-Benz C-111 with white C-111 on rear deck with white sides. It would seem to be a production piece, In the fact I have seen most in played with condition. This is the same for the other two early runs grey and white Int. This is just a observation not fact.
Versions
This '74 Mercedes-Benz C-111 has come out in the following 1/64 scale versions:
| Year | Series | Color | Tampo | Base Color / Type | Window Color | Interior Color | Wheel Type | Toy # | Country | Notes / Variations | Photo |
| --- | --- | --- | --- | --- | --- | --- | --- | --- | --- | --- | --- |
| 1974 | Flying Colors | Enamel Red | Yellow, white & Blue stars & stripes | Metal | Blue tint | Grey | RL | 6978 | HK | capped rear wheels / grey interior | |
| 1974 | Flying Colors | Enamel Red | Yellow, white & Blue stars & stripes | Metal | | | | | HK | White "C-111" Prototype ? | |
| 1974 | Flying Colors | Enamel Red | Yellow, white & Blue stars & stripes | Metal | Blue tint | White | RL2 | 6978 | HK | capped rear wheels | |
| 1974 | Flying Colors | Enamel Red | Yellow, white & Blue stars & stripes | Metal | Blue tint | White | RL2 | 6978 | HK | | |
| 1974 | Flying Colors | Enamel Red | Yellow, white & Blue stars & stripes | Metal | Blue tint | Black | RL2 | 6978 | HK | | |
| 1975 | Flying Colors | Enamel Red | Yellow, white & Blue stars & stripes | Plastic / Chrome | Blue tint | Black | RL2 | 6978 | HK | Chrome base | |
| 1976 | Flying Colors | Enamel Red | Yellow, white & Blue stars & stripes | Plastic / Blk | Blue tint | Black | RL2 | 6978 | HK | | |
| 1977 | Flying Colors | Enamel Red | Yellow, white & Blue stars & stripes | Plastic / Blk | Blue tint | Black | BW | 6978 | HK | | |
Similar Castings and Names
1972 Spectraflame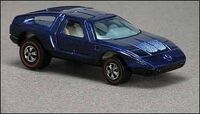 1973 Enamel Paint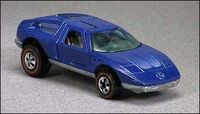 Gallery