Ad blocker interference detected!
Wikia is a free-to-use site that makes money from advertising. We have a modified experience for viewers using ad blockers

Wikia is not accessible if you've made further modifications. Remove the custom ad blocker rule(s) and the page will load as expected.
Mercedes-Benz C-111
Produced
1973
Designer
Bruno Sacco (Mercedes-Benz C-111)

Larry Wood (Hot Wheels)

Number
6978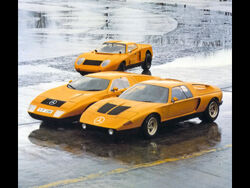 Description
Enamel paints became the normal paints for 1973 due to lead in the Spectra-flame paint. The Mercedes-Benz C-111 was reissued this year with the new child safe paint.
Generally 1973 Hot Wheels will be found with Capped Rear Red-lines and the new Open Axle on the front, but they rarely are found with both open axle (see gallery). In early '74 most models can be found with the same wheel style as there cousin the '73's. Capped rear and Open front. There are few odd ones. The Large Charger and the Vega Bomb are two both are found with capped front wheels. Wheels are very important to pay attention too , they help unravel a era that is not full of detailed history from the design team nor Mattel.
This model has assorted interior colors. Was produced in Hong Hong. Blue tinted window.
There was only the main line-up for 1973, No series. There were other lin-ups; Revvers, Zowees, rrRumblers, Hot Shots, ChopCycles, Sizzlers, so to complete a entire set of 1973's could take decades, not to mention a house or two,
Versions
This Hot Wheels vehicle has come out in the following 1/64 scale versions:
| Year | Color | Sticker | Base Color / Type | Window Color | Interior Color | Wheel Type | Toy # | Country | Notes / Variations | Photo |
| --- | --- | --- | --- | --- | --- | --- | --- | --- | --- | --- |
| 1973 | Dark Enamel Blue | | Metal | Blue Tint | Grey / Silver | RL | 6978 | HK | | |
| 1973 | Enamel Red | | Metal | Blue Tint | Black | RL | 6978 | HK | | |
| 1973 | Enamel Fluorescent Pink | | Metal | Blue Tint | | RL | 6978 | HK | | |
| 1973 | Enamel Fluorescent Lime Green | | Metal | Blue Tint | | RL | 6978 | HK | | |
| 1973 | Enamel Lemon Yellow | | Metal | Blue Tint | | RL | 6978 | HK | | |
| 1973 |  Light Enamel Blue | | Metal | Blue Tint | White | RL | 6978 | HK | | |
| 1973 | Enamel | | Metal | Blue Tint | | RL | 6978 | HK | | |
| 1973 | Enamel | | Metal | Blue Tint | | RL | 6978 | HK | | |
Similar Casting
1972 Spectraflame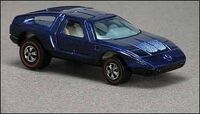 1974 Flying Colors
Gallery