History
The C111 was a series of experimental automobiles produced by Mercedes-Benz in the 1960s and 1970s. The company was experimenting with new engine technologies, including Wankel engines, Diesel engines, and turbochargers, and used the basic C111 platform as a testbed. Other experimental features included gullwing doors and a luxurious interior with leather trim and air conditioning.
The first version of the C111 was completed in 1969. It used a fiberglass body shell and had a three-rotor direct fuel injected Wankel engine (code named M950F) mounted in the middle. The next C111 appeared in 1970. It used a four-rotor engine producing 370 hp (275 kW). The car could reportedly hit 290 km/h (180 mph).
Description
The Mercedes-Benz C-111 was a car introduced onto the line-up in 1972. It came in two different styles of blisterpackin 1972, One with the plastic collector's button and the other was a Drivin' Gear blister pack where the button was not included. Making the Collector's button very hard to find for this car. Although this was the last year for Spectraflame paint this casting would live on in later years, all the way til 1977.
Versions
The Mercedes-Benz C-111 has come out in the following versions:
Note: The car was issued with a Hong Kong base only, had all cap-style wheels, blue tint window.
| Year | Series | Color | Base Color / Type | Window Color | Interior Color | Wheel Type | Toy # | Country | Notes | Photo |
| --- | --- | --- | --- | --- | --- | --- | --- | --- | --- | --- |
| 1972 | 1972 Hot Wheels | Spectraflame Blue | Black / Metal | Blue tint | White | RL | 6169 | Hong Kong | | |
| 1972 | 1972 Hot Wheels | Spectraflame Aqua | Black / Metal | Blue tint | | RL | 6169 | Hong Kong | | |
| 1972 | 1972 Hot Wheels | Spectraflame Gold | Black / Metal | Blue tint | | RL | 6169 | Hong Kong | | |
| 1972 | 1972 Hot Wheels | Spectraflame Purple | Black / Metal | Blue tint | | RL | 6169 | Hong Kong | | |
| 1972 | 1972 Hot Wheels | Spectraflame Light Green | Black / Metal | Blue tint | | RL | 6169 | Hong Kong | | |
| 1972 | 1972 Hot Wheels | Spectraflame Magenta | Black / Metal | Blue tint | | RL | 6169 | Hong Kong | | |
| 1972 | 1972 Hot Wheels | Spectraflame Red | Black / Metal | Blue tint | | RL | 6169 | Hong Kong | | |
| 1972 | 1972 Hot Wheels | Spectraflame Yellow | Black / Metal | Blue tint | | RL | 6169 | Hong Kong | | |
| 1972 | 1972 Hot Wheels | Spectraflame Green | Black / Metal | Blue tint | | RL | 6169 | Hong Kong | | |
| 1972 | 1972 Hot Wheels | Spectraflame | Black / Metal | Blue tint | | RL | 6169 | Hong Kong | | |
Gallery
Similar Castings or Names
1973 Enamel Paint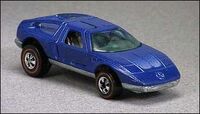 1974 Flying Colors