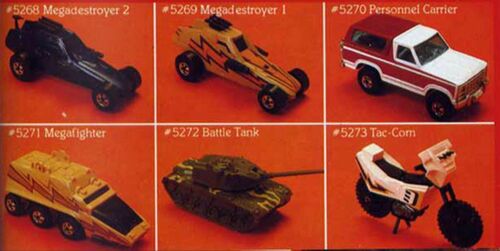 Megaforce Description
Megaforce  is an action film made in 1982 directed by former stuntman Hal Needham.Mattel Released a special series of hot wheels cars that corresponded to the movie. There were some very unique castings of vehicles, like the Megadestroyer. Some did debut in the Megaforce hot wheels series. Some casting never were to be seen again. Others would live on and just the color/tampo/name changes occurred.  
    There was one motorcycle that never made it past prototype stage. Story goes that a trash bag of them escaped. So they are out there.
In Newport Beach, Ca there is a MegaDestroyer 1  that was used in the movie on display outside a local business on PCH.
List
Megaforce Series has come out in the following 1/64 scale versions:
Ad blocker interference detected!
Wikia is a free-to-use site that makes money from advertising. We have a modified experience for viewers using ad blockers

Wikia is not accessible if you've made further modifications. Remove the custom ad blocker rule(s) and the page will load as expected.