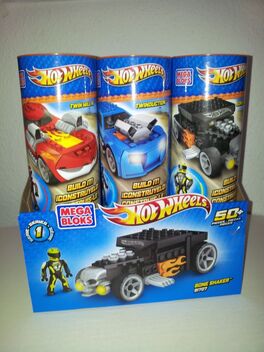 In fall 2013, Mega Bloks released a series of Hot Wheels cars known as Mega Bloks Hot Wheels. The first three Mega Bloks Hot Wheels cars released were Twinmill III,
Twinduction
, and Boneshaker. These series of Mega Bloks toys replaced the successful Barbie series of Mega Bloks toys.
List of sets
Super Blitzen (Monster truck)
Trivia
Each of the sets have collectible micro action figures.
Each of the collectible micro action figures are on different teams which are Team Blue, Team Yellow, Team Green, and Team Red.
Ad blocker interference detected!
Wikia is a free-to-use site that makes money from advertising. We have a modified experience for viewers using ad blockers

Wikia is not accessible if you've made further modifications. Remove the custom ad blocker rule(s) and the page will load as expected.