Marvel Secret Wars is a 2015 San Diego Comic-Con Exclusive 3-Pack. The packaging is shaped like an box with books. The three books all have one car in them, either flying through the city or hanging on a building. The cars included are Marvel Character Cars, made to look like a super hero. The three heroes included are: Captain America, Iron Man, and Spider-Man.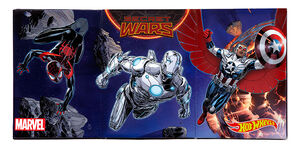 From the back of the box:
Hot Wheels® brings Marvel's Secret Wars to the fast track with this commemorative 3-pack of highly-detailed character cars representing Miles Morales: The Ultimate Spider-Man™, Superior Iron Man™ and Sam Wilson's Captain America™.
The Marvel universes have collided to form one extensive Battleworld, pitting three unlikely vehicles against each other in the ultimate thrill ride! Miles Morales's hot rod is sleek, agile and clings to the road with its ultra-strong Spidey grip. But Superior Iron Man's high-tech rocket car blasts by the competition using its Repulsor-powered engine. And with twin turbine engines and wings extending past its rear tires, Captain America's racecar can soar like a falcon over any obstacle in its path.
All three of these dynamic heroes will compete to rule the road, but only one can finish first!
2015 San Diego Comic-Con Exclusive
The following castings were released in the Marvel Secret Wars 2015 San Diego Comic-Con Exclusive 3-Pack: