Ad blocker interference detected!
Wikia is a free-to-use site that makes money from advertising. We have a modified experience for viewers using ad blockers

Wikia is not accessible if you've made further modifications. Remove the custom ad blocker rule(s) and the page will load as expected.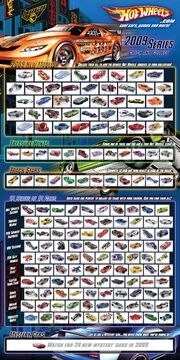 Each year, Mattel releases a new assortment of Hot Wheels toys. The mainline (or mainline-up) consists of the standard 1/64 scale cars that are sold individually and are available at retail.  The mainline usually includes new castings (which typically debut under the First Editions series) as well as older castings that have been updated with new colors or
tampographs
for that year.
The mainline is distinct and separate from other toys which include playsets with pack-in cars, models produced at a scale other than 1/64, convention exclusive cars, and other special releases.
The cars shown in this Hot Wheels 2009 poster to the left are mainline cars.