Loco-Motion
Debut Series
Flying Colors
Produced
1975-77
Number
9275

 
Loco-Motion is a track set put out by Mattel in 1975, 1976 and 1977. In1975 it came with the Warpath car with Redline tires. 1976 it came with one car, a Super Chromes Mustang Stocker with Redline tires, (RL), and in 1977 the one car was a Super Chromes Mustang Stocker with Blackwalls, (BW). The set included:
1 4-Speed Power Booster
1 180-degree Turn and Base
1 Dare-Devil Loop
1 Instruction Sheet
1 Joiner
1 Label Sheet
2 Rubber Bands
5 pieces of Track with a Red, White and Blue design
1 vehicle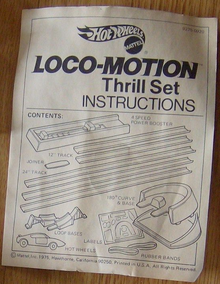 Ad blocker interference detected!
Wikia is a free-to-use site that makes money from advertising. We have a modified experience for viewers using ad blockers

Wikia is not accessible if you've made further modifications. Remove the custom ad blocker rule(s) and the page will load as expected.