Ad blocker interference detected!
Wikia is a free-to-use site that makes money from advertising. We have a modified experience for viewers using ad blockers

Wikia is not accessible if you've made further modifications. Remove the custom ad blocker rule(s) and the page will load as expected.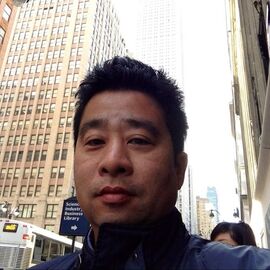 Biography
Born in Taiwan, and raised in Latin America, Chang traveled extensively across the globe before settling down in Southern California. He received his Associates degree in communication design from the International Fine Arts College in Miami and a Bachelor Of The Arts degree in graphic design from California State University, Fullerton.
Chang has worked for desiging graphics in the apparel, sports, motion picture, web, advertising and print industry for 17 years before joining Mattel in 2007. At Mattel he was the lead softline designer for boys consumer products for five years before moving to the wheel packaging group as staff designer for the Hot Wheels Adult Collector, Redline Club, and Premium series toy lines. Currently he is the design manager of Mattel overseeing tampo designs for all Hot Wheels product lines.
Original Designs
2015 Tampo Designs
2014 Tampo Designs
2013 Tampo Designs
| Year | Casting Name | Series Name | Color: | Toy Number | Photo |
| --- | --- | --- | --- | --- | --- |
| 2013 | Volkswagen T1 Drag Bus | RLC One Off | Blue Spectra Flame | | |
| 2013 | Maximum Leeway | HW Racing | Red | | |
| 2013 | Maximum Leeway | HW Racing | Blue | | |
| 2013 | Time Tracker | HW Stunt | Green | | |
| 2013 | Time Tracker | HW Stunt | Red | | |
| 2013 | Bad to the Blade | HW | Black | | |
| 2013 | Subaru WRX STI | HW City | White | | |
| 2013 | Subaru WRX STI | HW City | Blue | | |
| 2013 | Chevroletor | HW Racing | Black | | |
| 2013 | Chevroletor | HW Racing | Yellow | | |
| 2013 | | HW Racing | Purple | | |
| 2013 | F1 Racer | HW Racing | Turquoise | | |
| 2013 | F1 Racer | HW Racing | Red | | |
| 2013 | Tarmac Attack | HW Racing | White | | |
| 2013 | Tarmac Attack | HW Racing | Turquoise | | |
| 2013 | Dirty Outlaw | HW Racing | Orange | | |
| 2013 | HW450F | HW Stunt | Orang Red | | |
| 2013 | HW450F | HW Stunt | Black | | |
| 2013 | 24 Ours | HW Racing | Blue | | |
| 2013 | Nitro Doorslammer | HW Racing | Blue | | |
| 2013 | Rennen Rig | HW Racing | Blue | | |
| 2013 | Arrow Dynamic | HW Racing | Blue | | |
| 2013 | Super Blitzen | HW Racing | Blue | | |
| 2013 | Prototype H-24 | HW Racing | Blue | | |
| 2013 | Rescue Duty | HW Racing | Blue | | |
| 2013 | Mig Rig | HW Racing | Blue | | |
| 2013 | Blvd. Bruiser | HW Racing | Blue | | |
2012 Tampo Designs
2011 Tampo Designs
2010 Tampo Designs
ypo correction