Ad blocker interference detected!
Wikia is a free-to-use site that makes money from advertising. We have a modified experience for viewers using ad blockers

Wikia is not accessible if you've made further modifications. Remove the custom ad blocker rule(s) and the page will load as expected.
Large Charge Description
The Large Charge is a Hot Wheels casting designed by Larry Wood, which was thought to be debuted in the 1975 Flying Colors series.An all electric car well ahead of it's time, speaking of ahead of it's time. It was released earlier than 1975. It was released sometime in 1974. Ya I know everyone said '75. Here are my observations and some proof. Can be found in a 1974 Red Flying Colors blisterpack with sticker over what the blistercard was meant for, 1974 check list one back, with front capped wheels (see photo's in gallery). I am not saying it was early '74 , but sometime in 1974. At least would have been one of the first for 1975.
The casting was also released under the names Silver Bullet in 1985 and Aeroflash in 1992.
Versions
The Large Charge has been released in the following 1:64 scale versions:
| Year | Series | Color | Tampo | Base Color/Type | Window Color | Interior Color | Wheel Type | cast # | Country | Notes / Variations | Photo |
| --- | --- | --- | --- | --- | --- | --- | --- | --- | --- | --- | --- |
| 1975 | 1975 Flying Colors | Green | Orange, Yellow, Black lightning bolts, "HIGH VOLTAGE" | Unpainted / Metal | Blue tint | Unpainted metal | RL | 8272 | Hong Kong | Capped Front | |
| 1975 | 1975 Flying Colors | Green | Orange, Yellow, Black lightning bolts, "HIGH VOLTAGE" | Unpainted / Metal | Blue tint | Unpainted metal | RL | 8272 | Hong Kong | | |
| 1976 | 1976 Super Chromes | Chrome | Orange, Yellow, Black lightning bolts, "HIGH VOLTAGE" | Unpainted / Metal | Blue tint | Unpainted metal | RL | 8272 | Hong Kong | | |
| 1977 | 1977 Super Chromes | Chrome | Orange, Yellow, Black lightning bolts, "HIGH VOLTAGE" | Unpainted / Metal | Blue tint | Unpainted metal | BW | 8272 | Hong Kong | | |
| 1979 | 1979 Hot Wheels | Orange | Maroon, Purple, White "4" | Unpainted / Metal | Blue tint | Unpainted / Metal | BW | 8272 | Hong Kong | | |
Similar Casting and Names
1985 Ultra Hots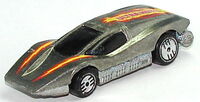 1992 Gleam Team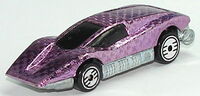 Gallery