Ad blocker interference detected!
Wikia is a free-to-use site that makes money from advertising. We have a modified experience for viewers using ad blockers

Wikia is not accessible if you've made further modifications. Remove the custom ad blocker rule(s) and the page will load as expected.

Lamborghini is an Italian automobile manufacturer that produces high-end (exotic) sports cars. It was founded in 1963 by Ferrucio Lamborghini. the brand of the "Cavallino Rampante", although Lamborghini's shield depicts a bull, called Raging Bull. Hot Wheels has made a couple different Lamborghini models, starting in 1988.
Lamborghini castings
| Name | Year | Notes | Photo |
| --- | --- | --- | --- |
| Lamborghini Countach | 1988 | | |
| Lamborghini Diablo | 1991 | | |
| Lamborghini Countach (1997) | 1997 | Originally released as the 25th Anniversary Lamborghini Countach | |
| Lamborghini Murciélago | 2003 | Released: 2003 First Editions . | |
| Lamborghini Countach ('Tooned) | 2004 | Tooned Version | |
| Lamborghini Reventón | 2009 | Released: 2009 New Models . | |
| Lamborghini Reventón Roadster | 2010 | Released: 2010 New Models . | |
| Lamborghini Gallardo LP560-4 | 2010 | International Line: 2010 New Models . USA Line: 2010 Global All Stars | |
| Lamborghini Gallardo LP 570-4 Superleggera | 2011 | 2011 New Models | |
| Lamborghini Murciélago LP 670-4 SV | 2011 | Retool of "normal" Lamborghini Murciélago | |
| Lamborghini Estoque | 2011 | 2011 New Models | |
| Lamborghini Aventador | 2012 | 2012 New Models | |
| Lamborghini Aventador J | 2013 | showroom - All stars | |
| Lamborghini Sesto Elemento | 2014 | 2014 New Models | |
| Lamborghini Veneno | 2014 | 2014 New Models | |
| Lamborghini Urus | 2015 | 2015 New Models | |
| Lamborghini Huracan | 2015 | 2015 New Models | |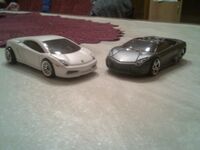 The Lamborghinis as 2010 New Models