Hot Wheels Wall Tracks are a unique type of stunt track specially designed to fit onto a vertical surface - such as a wall. First coming out in 2011, the Wall Tracks use 3M Command Strips to stick to the wall. Only certain cars work fully on every track. Normal straight pieces of Hotwheels track can also be used.
Sets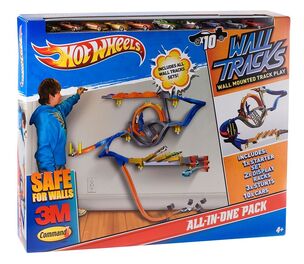 W2815 ALL-IN-ONE PACK/Wall Tracks Complete World with Starter Set, Daredevil Curve, Drift Rally Spinout, x2 Display Packs, and 10 CARS!
Posters
Ad blocker interference detected!
Wikia is a free-to-use site that makes money from advertising. We have a modified experience for viewers using ad blockers

Wikia is not accessible if you've made further modifications. Remove the custom ad blocker rule(s) and the page will load as expected.