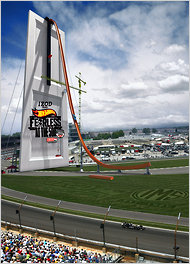 Hot Wheels For Real was the promotional name for the Fearless at the 500 Event that took place on May 29, 2011.
Tanner Foust, a member of Team Hot Wheels, a crew of stunt drivers, broke the world record for distance jump in a four-wheeled vehicle (which was previously set at 302 feet) by speeding in a life-sized yellow race car down a life-size version V-Drop track set. The door measured at 10 stories high and was built in the infield of the Indianapolis Motor Speedway.
The jump was featured in a 30-minute Hot Wheels television show that appeared after the ABC coverage of the Indianapolis 500.
Mattel joined forces with the Indy Car sponsor IZOD for the promotion.
Ad blocker interference detected!
Wikia is a free-to-use site that makes money from advertising. We have a modified experience for viewers using ad blockers

Wikia is not accessible if you've made further modifications. Remove the custom ad blocker rule(s) and the page will load as expected.