Ad blocker interference detected!
Wikia is a free-to-use site that makes money from advertising. We have a modified experience for viewers using ad blockers

Wikia is not accessible if you've made further modifications. Remove the custom ad blocker rule(s) and the page will load as expected.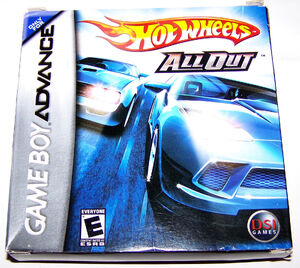 Hot Wheels All Out is videogame for Game Boy Advance, developed by DSI Games, published by Zoo Games, released September 13, 2006
Cars
Tracks
Modes
Versus — Can you beat the best? Compete againts 4 cars to see if you can achieve pole position
Eliminator — Do not get left behind. Aster each lap the car in last place will be knocked out.
Pursuit — Do not let the criminal escape. Chase hin down before the time runs out
Collector — Can you collect all Hot Wheels items before the time runs out?
Beat The Clock — Put your speed to the test. Complete 3 laps before the time runs out.