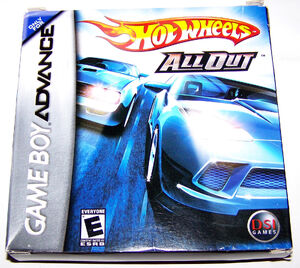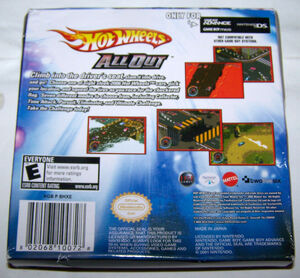 Hot Wheels All Out is videogame for Game Boy Advance, developed by DSI Games, published by Zoo Games, released September 13, 2006
Cars
Tracks
Modes
Versus — Can you beat the best? Compete againts 4 cars to see if you can achieve pole position
Eliminator — Do not get left behind. Aster each lap the car in last place will be knocked out.
Pursuit — Do not let the criminal escape. Chase hin down before the time runs out
Collector — Can you collect all Hot Wheels items before the time runs out?
Beat The Clock — Put your speed to the test. Complete 3 laps before the time runs out.
Ad blocker interference detected!
Wikia is a free-to-use site that makes money from advertising. We have a modified experience for viewers using ad blockers

Wikia is not accessible if you've made further modifications. Remove the custom ad blocker rule(s) and the page will load as expected.